FIFA WC Final 2022: Argentina vs. France Prediction & Odds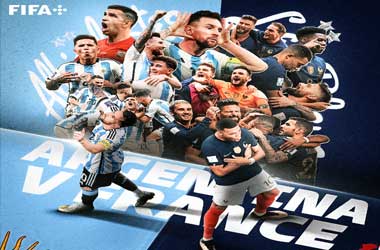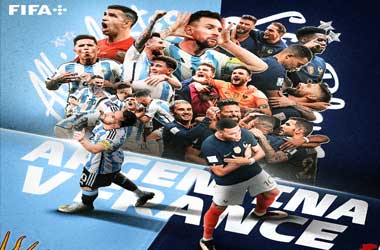 The 2022 FIFA World Cup has provided football fans with world class football action as 32 nations from around the world competed to see who will become the World Champions in 2022. 
Defending champions France have qualified and made it to their second consecutive World Cup final and will play South American giants Argentina who were among the top three betting favorites to win the World cup in the World Cup final which takes place at the Lusail Stadium in Doha on Dec 18. 
Bet On Qatar 2022 With Top Sportbooks
Sign-up now at any of our featured sportsbooks below and start betting on the 2022 FIFA World Cup final right away. 
Argentina got to the finals after thrashing Croatia 3-0, who defeated Canada back in the Group Stage as they put on a spectacular display of football. Argentina has made it to their 6th World Cup final and will be looking to beat France on Sunday and win their third FIFA World Cup. This is most likely going to be the last World Cup for captain and star player Lionel Messi and the rest of the squad are determined to win the World Cup for Argentina and Messi.
France had a tough challenge in their semi-final against Morocco. France went on to win 2-0 but don't let the result fool you into thinking it was an easy game for Les Bleus. 
France have only managed to get to 3 World Cup finals previously (this will be their 4th) but have ended up winning two of those finals to lift the Championship in 1998 and 2018. This will be their first opportunity to win back to back World Cups. France goes into the 2022 FIFA World Cup final with a number of players that were part of the 2018 World Cup win!
FIFA WC 2022: Final – What to Expect and Watch for
The bookmakers expect this to be an evenly contested game as both sides are packed with a bunch of talented players. We take a quick look at the odds and share our predictions below.
* Odds have been provided by Bodog and are accurate as of 15/12/2022
Argentina
Odds to Win: 10/11
Argentina have been really strong in defence and their goal keeper Emiliano Martínez is having a great tournament. Lionel Messi is currently tied for first place as the leading goal scorer in the tournament. Messi the magician has not only scored for Argentina but he has created goals with his brilliant passing and technical skills. 
Argentina need to attack and put pressure on France throughout the game. If Argentina cut France some slack, they will regret it as France have more speed on the flanks with Mbappé and Ousmane Dembélé who can set things up for Olivier Giroud.
France
Odds to Win: 10/11
France will once again look to score early like they did against Morocco and catch Argentina off-guard as they look to shake of the jitters of playing in a World Cup final. Mbappé is tied with Messi on 5 goals and will not only want to score for France in the final but win the Golden Boot award and get the better of his PSG mate. Mbappé hasn't scored in the last two games and is due to score.
Antoine Griezemann has had a rather quiet tournament by his standards but will be a key player for France to execute set plays. France will not want this game to go into extra time and will do their best to get a result during full time.
Our Verdict: Argentina to win
Argentina have had one day of extra rest and recovery than France and we do feel that will make a big difference. The crowd support and most soccer fans around the world will be for Lionel Messi and Argentina and that energy will spur Argentina on.
We think Messi's presence gives Argentina that slight edge and hence we back them to become the 2022 FIFA World Cup champions!