Canelo vs Plant Odds: Latest Predictions & Indepth Anaylsis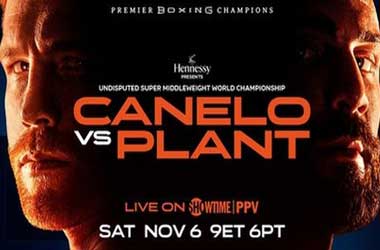 Canelo Álvarez, the undefeated Super Middleweight World Champion, will square off in a title fight against Caleb Plant on November 6th at the MGM Grand in Las Vegas, Nevada.
The most highly anticipated pay-per-view bout of the year, Álvarez who last fought Avni Yildirim will be looking to cement his reputation as the best pound for pound fighter in boxing, while Plant will be looking for a victory that will define his career.
A four-division world champion, Álvarez is the favourite to win the super middleweight title.
To anyone who has followed Canelo Álvarez's career, it is not surprising to see him as the favourite, a position he has been in for almost every fight since 2018, when he was the underdog against Gennady Golovkin.
Plant, who has been the reigning IBF Super Middleweight champion since 2019, isn't unaccustomed to being the underdog. He was the underdog when he won the title by unanimous decision against Jose Uzcategui, and we all know how that played out.
Best Online Sportsbooks To Bet On Canelo vs Plant Fight
However, while few believe Plant will get the upper hand on Álvarez, we all know that predicting the outcome between two seasoned fighters like Álvarez and Plant is anything but easy. The reality is, Plant will be looking to retain his title, and with two trading punches during the pre-match news conference, whatever happens, this is a battle worth taking a closer look before making our prediction on who will win on the 6th.
Motivedia – Boxing
Pound for Pound Analysis
* Odds have been provided by Bodog and are accurate as of 26/01/2021
Saul "Canelo" Álvarez
Odds to win: -1100
At 31, Canelo Álvarez has earned his reputation as the best pound for pound fighter in the UFC. With three championships to his name and a WBO title, his 56-1 record speaks for itself. With one of the highest fight I.Q's in the sport, Canelo doesn't need any introduction and rarely takes the bait or fall prey to tactics displayed by opponents like Plant.
While Canelo may initially struggle with Plant's height and reach advantage and movement, that advantage will be short-lived. This is a seasoned fighter who is determined, focused and a tough opponent on his worse days. Álvarez is exploiting his opponents' weaknesses, known as a skilled puncher, efficient counterpuncher, and knows how to avoid being hit.
Caleb Plant
Odds to win: +600
At 29, Plant enters the fight with a 21-0 record and is the reigning IBF Super Middleweight Champion. While impressive, Plant will face one of the toughest opponents of his career when he enters the ring against Canelo Álvarez. While he has a slight height and reach advantage, he will need to stay focused and avoid getting caught up in Canelo's superior fight IQ.
However, this will not be easy, especially once Álvarez gets in close as few other fighters are as skilled as Álvarez at avoiding punches while punishing the body when in the pocket. However, Caleb Plant is an excellent boxer, known for his jab and skilled at drawing out attacks while countering it with a combination that can have a devastating impact.
Our Prediction: Canelo to win by knockout
Ultimately, when you consider the trajectory that Álvarez has taken since going pro at 16, the odds are good that he will push Plant into the corners and pick away at him below, going for the knockout punch. While stranger things have happened, our money is being Álvarez for the win.