Canelo vs Yildirim Odds: Latest Predictions & Indepth Anaylsis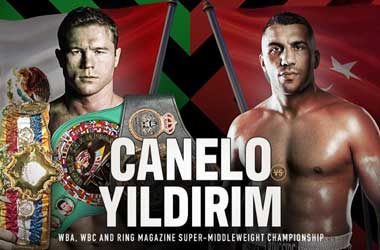 Saul "Canelo" Álvarez and Avni Yildirim are set to take to the ring on the 26th of February at the Hard Rock Stadium in Miami Gardens.
After a brutal 2020 and the cancellation of hundreds of fights which has affected the live betting market, the super middleweight bout will be available via pay-per-view and be broadcast live in over 200 countries from Miami at the Hard Rock Stadium will come as relief to the industry.
Canelo has not been shy about admitting 2020 was a tough year, nor has he been about his readiness for his next challenge.
After decimating Callum Smith in December, Canelo is focusing his sights on becoming the Super Middleweight champion, and as Avni Yildirim is the WBC mandatory challenger, his scheduled fight is the first step.
Best Online Sportsbooks To Bet On Canelo vs Yildirim Fight
There is no doubt going into the fight that Canelo is the heavy favourite, especially when you consider his past few fights and his dominating style in the ring. His win over Smith improved his record to 54-1-2, of which 36 were knockout victories. However, while Avni Yildirim may have been in-active since 2019, he is no slouch and waving him off as a legitimate contender would be a mistake.
A native of Turkey, Yildirim enters the fight with a 21-2 record with 12 being knockout victories. As a pro, he has only lost two professional fights, one of which was his last in February 2019 against Anthony Dirrell. Yildirim's only other loss was in 2017 against Chris Eubank Jr, and that ended in the Turk getting knocked out.
This is a fight that is clearly in favour of Canelo walking away with another victory, and considering Yildirim's inactivity of late, it could quickly end with the Turkish fighter facing another knockout loss, especially considering Canelo's record for knockout victories.
However, as we know all too well, predictions are far from failsafe, and in boxing, things can change in the blink of an eye. While we agree with the analysts, its worth looking closer at Canelo and Yildirim before making our prediction on who will win on the 27th.
Pound for Pound Analysis
* Odds have been provided by Betway Sports and are accurate as of 26/01/2021
Saul "Canelo" Álvarez
Odds to win: 1.02
At 30 years of age and with a 70.5 inch reach, many thought Canelo would face his toughest challenge to date against Callum Smith. However, Smith didn't stand up the hype and underestimated Canelo's power and skill and barely avoided being knocked out as a result.
Make no mistake, Álvarez is a force to be reckoned with and is a tough opponent on his worse days. His skills at being able to find openings is well-documented, as are his skills at counterpunching and being able to capitalize on those opportunities. If that isn't enough, he is only the fourth from Mexico ever to win world championships in four different weight classes.
No one is expecting Yildirim to be much of a challenge, as many consider Canelo the world's best pound-for-pound fighter. After his last fight, and his winning Ring Magazine, WBC and WBA belts, he made it clear he intends to go after the remaining belts and become the Super Middleweight undisputed champion. And with a statement like that, he has all but set the stage for future bouts against the likes of Gennady Golovkin, Caleb Plant or Billy Joe Saunders. No doubt, Canelo" Álvarez is on a mission, and for Avni Yildirim, that has to be in the back of his mind when he steps into the ring.
Avni Yildirim
Odds to win: 5.00
At 29, Avni Yildirim has a reputation as a solid fighter capable of winning fights. With only two losses in his professional career, he is putting a lot on the line by entering into the ring against Canelo. It doesn't help that Yildirim hasn't fought since his fight against Anthony Dirrell ended after a head butt in the 10th, even if he did put up a good fight.
However, Yildirim has more victories to his name than losses and should not be overlooked. The problem comes from the fact most of those wins were against lower level fighters, and when going up against the big boys, such as Chris Eubank Jr, he has failed in both attempts. Still, Yildirim has been laying low waiting to fight for the WBC title yet again after his failed bid against Dirrell when the title was vacant.
However, he may have waited too long as Canelo is not going to give him much hope of succeeding, and ultimately, it is difficult to see how Yildirim has much of a chance, but as we said, things can change quickly in boxing, so a few nods for Yildirim could pay off.
Our Prediction: Canelo to win
Considering the histories of both fighters, this is an easy one to call. The reality of it is, it would be difficult not to put our money behind Canelo Álvarez. At the end of the day, he is a better pound-for-pound fighter, and the proof is in the pudding, so to speak. The oddsmakers do not expect Yildirim to put up much of a challenge, not do industry analysts, both of whom heavily favour Álvarez for the win.