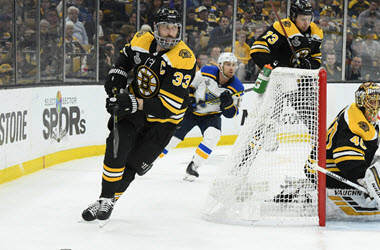 Zdeno Chara proved he is the consummate professional as he hit the ice for Game 5 with special chin guard after suffering a broken jaw in Game 4. There is stood, ready to do battle and refusing to sit on the sidelines even though that is exactly what he should have done.
His entry onto the ice resulted in a standing ovation from Bruins fans, and the admiration of others who understand the sacrifices this level of play carries. The comments that followed all showed the respect Zdeno Chara has earned in his time in the NHL. Bruins coach, Bruce Cassidy called the move "Amazingly brave". Teammate Brandon Carlo stated, "I wouldn't expect anything less from him." And Tuukka Rask commented,
"It shows his character. It takes a lot for him to not play. He's got some big balls."
It was a moment in the playoffs that will not be forgotten, even if it didn't result in the Bruins earning a victory. It was a moment that saw, against Doctors orders, deal with the pain and risk for more permanent injury and being focused on helping his teammates as he plays what is most likely his final chance at winning a Stanley Cup Final. Commenting on the injury, Bruce Cassidy stated,
"His injury is a little more serious than some. He was medically cleared with some warnings. He made the decision to play. Inspirational for us, good player for us. We knew he wouldn't be 100 per cent. So we're happy to have him out there but it just speaks a lot to his character and his role to play."
Sportsnet
To be safe, Cassidy chose to have Steven Kampfer dressed and ready to go if needed. However, it didn't take Chara long to make his presence felt after checking Brayden Schenn into the boards during the first minute of play, and that was just one of four for the night.
He played with zero restrictions. While he didn't speak to the media post-game as a result of his injury limitations. That is the type of thing that punters need to consider, while it may not win games directly, the motivation plays a part, especially when placing bets with the likes of Spin Sports. Chara did answer several questions through Bruins media relations commenting on his jaw that,
"You don't think about that. You think about playing. You don't go into a game thinking you might get hurt."
The main adjustment on the bench was Chara's inability to be heard when not pleased with his teammates. However, that was not shared when it came to dealing with officials over a missed penalty that saw Chara pleading Boston's case. John Moore, who also plays defence with the Bruins commented on Chara saying,
"What he's going through, that's something I'll tell my kids about when they wake up with a fever and don't want to go to school. Those are life lessons that I'll carry long beyond hockey that I'm very grateful to have with Zee."
The night began with Boston having Derek Sanderson and Bobby Orr act as the pre-game flag captains. Chara was the last to be introduced in a move that is not typical in series. What was clear was Boston was trying to get the most out of Chara's sacrifice. The one thing Boston failed to factor was Jordon Binnington and the fact he played his best game in the finals so far otherwise the game could have ended differently. Commenting on Boston's move, Craig Berube, coach for St. Louis said,
"I think it gave their team momentum in the first period, for sure, having him out there, but our team hung in there and we pulled out a gutsy win. That's the way I look at it. Our team was gutsy tonight. Our goalie was good and our team was gutsy."