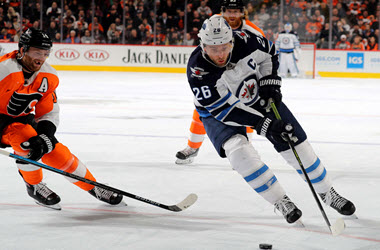 The Winnipeg Jets managed to pull off a win last night against the Boston Bruins, but it took a shootout to get the job done in Boston with the Jets defeating the Bruins 4-3 after Kyle Connor scored the winning and only goal during the shootout on Tuesday night.
Kyle Connor also scored twice in the third period, remarkably within 34 seconds of each other to help the Jets tie the game, one they were losing 2-1 until Connor tied in at 15:33 in the third period. John Morrisey also scored for Winnipeg and earned two assists. Ben Chiarot, Tyler Myers and Blake Wheeler also earned assists. Connor Hellebuyck had 36 saves and stopped all shots in the shootout, including Boston's Brad Marchand, who took the final shot.
The win was welcomed news for Winnipeg, who lost to the Philadelphia Flyers on Monday night. It would have been their third loss in a row and a first for the Jets this season. Boston's Patrice Bergeron scored two goals for the Bruins, and David Pastrnak scored their third goal. Brad Marchand registered three assists, David Pastrnak and Torey Krug each earned one, while Jaroslav Halak had 24 saves for the night.
Sportsnet
Entering the third period, the Jets were down by one, but a breakaway by Connor saw Winnipeg tying the game thanks to a neutral zone turnaround. Only 34 seconds later, Connor once again scored to put Winnipeg in the lead.
Just past the midway point, Boston's Patrice Bergeron scored his second goal of the night on a power play, and that saw the two going into overtime. Scoreless, it came down to the shootout and with Boston unable to get one past Hellbuyck, and Connor scoring on the Jets last attempt, Winnipeg took the win.
Boston came out strong in the first needing less than 90 seconds to score their first after David Pastrnak came from the left point. That put the Bruins up by one, but with just over five minutes remaining in the first, John Morrisey sent a slap shot past Halak after the Jets went on a power play due to slashing by Zdeno Chara.
Winnipeg's Brandon Tanev and Boston's Trent Frederic, who was playing his first NHL game got into a fight in the second period that left to Frederic calling it a night. Boston fans were impressed, and his parents were seen giving each other high fives. The fight came attention tensions rose relating to an earlier fight between Adam Lowry and Kevin Miller.
Winnipeg now returns home after a two game road trip to play host to the Colorado Blue Jackets on Thursday. They then welcome the Anaheim Ducks on Saturday and San Jose on Tuesday before heading to Montreal for a Thursday night game. Register today with 888Sport, a betting.ca recommended sportsbook, and you will qualify for up to $250 in first time deposit bonuses.