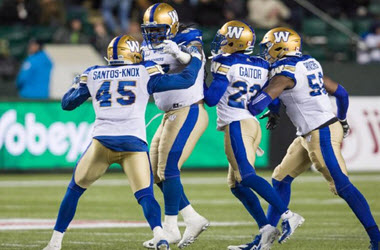 The Winnipeg Blue Bombers put up a strong defence last night, and in doing so, improved their chances at making the playoffs this season after defeating the Edmonton Eskimos 30-3.
The Edmonton Eskimos gave up seven turnovers, and in doing so, the Bombers earned their second back-to-back win. Commenting on Saturday night's game, Kevin Fogg, defensive back for Winnipeg said,
"It felt good, but it is a team effort. We were all out there making things happen. When we are all on, that is the type of stuff that can happen. We took a step forward in closing out this game as well as we did."
The Blue Bombers were coming off a four-game losing streak before their win against Montreal. Last night put them tied for third with Edmonton in the CFL East. Matt Nichols, Winnipeg's QB, was 16 for 20 last night and felt that the team's defence was excellent and got to work right off the bat. Nichols added,
"It shows that when we do what we are coached to do that we are a very good football that can beat very good football teams. That's two weeks in a row. Now we just have to sustain it and keep doing what we are doing."
Edmonton has now lost their last two games, and four of the last five. They appear to be struggling to come together, and with losing Duke Williams, their top receiver to a shoulder injury, things are not looking up for the Eskimos. Head coach of the Eskimos, Jason Maas didn't believe anyone expected the team to lose on their own turf. Mass added that,
"We did, and we've got to own it. If we learn from this, which we should, we'll get better. That's what we're aiming for. Sometimes, it takes you to get knocked down like this before you rebound and become great."
The Blue Bombers Marcus Sayles put a stop to the Eskimos attempted putt on the 29-yard line after their first possession. That led to Winnipeg scoring a field goal and taking an early lead. Six minutes into the second quarter, Winnipeg increased that lead after Chris Streveler, the backup QB scored a one-yard touchdown.
"I thought we did well in all levels of our defence… everyone understood their job and was doing it."

VIDEO ▶️ https://t.co/EYSsZu3nco pic.twitter.com/WnovKhXDYF

— WPG Blue Bombers (@Wpg_BlueBombers) September 30, 2018
The Blue Bombers continued their domination over the Eskimos. Taylor Loffler intercepted a pass by Mike Reilly, and that saw Andrew Harris scoring Winnipeg's second touchdown of the game. As the halfway point approached, the Eskimos manage to score a field goal and were behind 17-3.
However, the small burst of hope was short lived going into the third quarter after another turnover saw Kevin Fogg go 73 yards into the Eskimos end zone to make it 23-3. Mike Reilly continued to have problems on their next possession after he fumbled the ball, Fogg was again in the right place, took possession and put the Bombers in position for a field goal attempt that increased Winnipeg's lead to 27-3.
After the turnover, Reilly was replaced by Danny O'Brien, but it was too little too late, and with a minute left in the fourth quarter, Winnipeg scored another field goal to end the game 30-3. Punters hoping to see the Blue Bombers make the playoffs can place bets on their next game in Ottawa on Friday against the Ottawa Redbacks. One of our recommended CFL betting sites for punters is Bodog, and with up to $200 available in signup bonuses, they are a top choice for Canadian wanting in on the action. Edmonton will have a chance at ending their losing streak on Thanksgiving Monday when they face the Saskatchewan Roughriders.