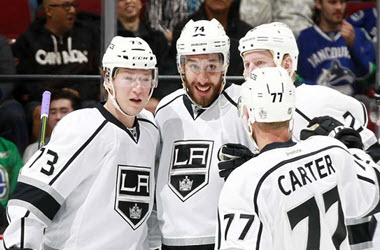 The L.A. Kings have been in a slump of late going ten games without a win that was until last night when they defeated the Chicago Blackhawks 6-3 in Los Angeles.
The win was a welcome relief for the L.A. Kings and its head coach, Willie Desjardins, but not so much as to see those ruling over the bench cracking a smile. It was an end to what was, the franchises second longest losing streak in its history, and for sportsbooks, one that saw confidence in the team drop substantially. However, for NHL punters, the opportunities leading up to the post-season remain positive and with signup bonuses worth hundreds, now it a prime time to register with leading betting.ca approved sportsbooks.
Dustin Brown scored two goals last night for Los Angeles. Adrian Kempe, IIya Kovalchuk, Brendan Leipsic and Sean Walker each scored one goal with assists going to Jeff Carters (2), Adrian Kemp, Ilya Kovalchuk, Brendan Leipsic, Jonnu Brodzinski, Drew Doughty, Anze Kopitar and Jonathan Quick. Commenting on the win, head coach Desjardins, who watched his team finally muster the goals needed to win said,
"It has been a long time, and in the end it's just a way better feeling when you win"
Sportsnet
The Kings were at risk of matching the franchises longest losing streak of eleven games had they lost last night. Goaltender Jonathan Quick had 29 saves for the night and earned the win. Scoring for Chicago was Brendan Perlini with two goals and Connor Murphy with one. Assists went to Corey Crawford, John Hayden, Slater Koekkoek, Chris Kunitz and Dylan Strome.
The Chicago Blackhawks got into trouble early in the first period going down 3-0 but managed to come back in the second to tie the game. However, with Adrian Kempe's goal midway through the second, L.A King went ahead for good. Commenting, Kempe said,
"The last couple of games, it's been tight and we haven't really got a bounce this way. Just kept battling through it and tonight we got a lot of those as a team. That's kind of what we needed to get going here and it was a perfect game. Everybody has to step up the way they did tonight and hopefully we can keep it going."
Dustin Brown was playing his 1,100th NHL career game last and scored his 275th and 276th goal, a substantial achievement and enters the books at the sixth highest scoring player in the Kings history. Leipsic's goal came with a little help from Kovalchuk before Brown scored his second of the night.
Chicago's Brendan Perlini managed to reduce the deficit to 3-2 early in the second after picking up a pass from Crawford and going on a breakaway. Connor Murphy tied the game four minutes later. Commenting on the night and how the Blackhawks performed, coach Jeremy Colliton said,
"We didn't have what we needed, for sure. It's tough when you have to come from behind the whole game. You kind of run out of energy. Right away we're chasing."
Los Angeles was able to keep Chicago reined in with a combination of Jonathan Toews and Patrick Kane maintaining their position even though Kane failed to earn a point. This was only the third time in 31 games Kane failed to earn a point. Commenting on the duo, Leipsic said.
"You're not going to keep them quiet all night, but you want to do your best to contain them. They are going to get their chances, so just keep them to a minimum and keep them to the outside and when you do have time to pressure them pressure them. We did a good job on them."
The Blackhawks will play host to the Buffalo Sabres on Thursday and then head out on a single game road trip to meet the Dallas Stars before returning home to face the Arizona Coyotes. For sports bettors interested in placing bets on the upcoming games, they may wish to register with Sports Interaction, a respected and recommended Canadian friendly sportsbook.