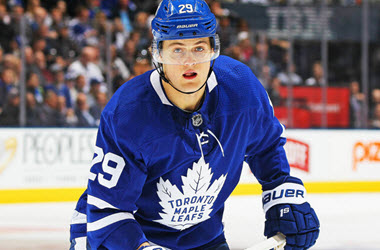 An hour was the difference between the Toronto Maple Leafs and William Nylander failing to make a deal with the restricted free agent. It came down to the wire, but with as Saturday's deadline was edging ever closer, the two came to an agreement.
The call came as Kyle Dubas was in Minnesota for Saturday night's game against Toronto prepared to take on the Wild. That was the first good news of the day for the organisation, the second and cheery on top was the 5-3 win.
Nylander called Dubas at 3:30 in the afternoon and asked Dubas if he wanted to make a deal stated Dubas. He added that,
"Once he said what he did and I spoke to [his agent] Lewis Gross for a bit, I knew we were on the right track. But it was right down to the wire."
The result saw Toronto agree to a six year contract extension worth $41.4 million with William Nylander and bringing an end to a standoff that lasted twenty-six games. However it didn't end without drama and a verbal agreement as it was 3:52 before the contract was signed, and that saw small variation adjustments being made and then having to wait for the adjusted contract be sent back signed before the deadline and submitted to the central registry of the NHL by 4 pm.
In speaking about the final moment, Dubas stated,
"The worst thing you can do is have a page missing, and the contract is rejected at this point. Would not be good."
The speculation of whether the two could come to an agreement saw many arguing how much Nylander could command as a salary when factoring in the other extensions the Maple Leafs needed to address with Mitch Marner and Austin Matthews.
Sportsnet
Dubas stated that he had faith in Brandon Pridham ability to get the contract done, but he had doubts at the same time. Dubas added,
"Any time you get into something like this, especially when you come into the last day, you think it might be reality. It's my duty to the organisation and our group to ensure we're putting the organisation in the best possible spot moving forward with all our economics and all of our players, so we have to do what's right for that."
The ultimate goal to have long-term sustainable success that the organisation felt comfortable was the focus. Nylander was Toronto's eighth pick in the 2014 entry draft. In 185 games, Nylander has scored 48 goals and earned 87 assists since 2016, and the put his production on an equal footing as Nikolaj Ehlers of the Winnipeg Jets, who agreed to a $42 million contract extension last year.
It was reported that Nylander and his management team were requesting $8 million a season. Dubas refused to comment on how many times the two went back and forth before the deal was done, and left it at that is more of a question for Lewis Gross, Nylander's agent.
"That's more of a question for Lewis. They were entrenched in their spot and we were entrenched in ours. We just tried to stick with our process. I do appreciate the amount of work and effort that Lewis put into this and William throughout. They were very responsive and good to deal with."
At the end of the contract, Nylander will be 27 years old and will again become an unrestricted agent, and that will give the Maple Leafs the needed security to move forward. The goal is to avoid a similar situation that the Tampa Bay Lightning were in with Nikita Kucherov, who agreed to a three year deal at $14.3 million only to see Kucherov earn 185 points over the contract and earn a contract extension worth $76 million over eight years.
After taking over the general managers position in May Dubas has felt the pressure to keep his three top players, and that was the goal of the franchise, who wants Matthews, Marner and Nylander to remain with the organisation throughout their career. Dubas commented that,
"I know people were ready to jam that one down my throat, but we'll stick with it. That's our goal, we want this group to be together as long as we can possibly keep it together. We want all these guys to be career Leafs – especially this young core of players we have."
As for Nylander, it was not his position to make history. He simply wanted to make the best deal based on the facts he presented. Nylander commented that,
"I think we've shown that when it comes to making sure everything fit our economics, we'll go to whatever length we have to. But our goal is to have everyone settled as soon as we possibly can and that allows us to best plan for the remainder of the year and roll from there."
It is unknown when Nylander will play his first game and how his deal will impact the roaster. The first thing on the horizon is medical testing, but it is anticipated he will rejoin the team for the Tuesday night game against the Buffalo Sabres. Those punters wishing to place bets in favour of the Leafs will be picking a good time to do so considering Toronto is sitting second in the Atlantic Division. Why not register with our recommended sportsbook, Betway, a favoured sportsbook with Canadian punters and one offering new players up to $200 in bonuses when the register today.