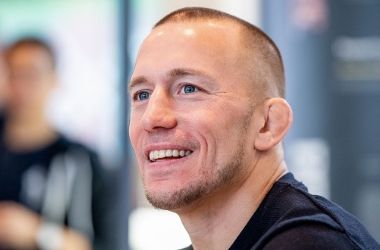 When Georges St-Pierre retired from mixed martial arts a few months ago, not a lot of fans were ready to admit that it was the end of the road for one of the sport's all-time greats. The Canadian hero was the welterweight king for years on end in the Ultimate Fighting Championship, before eventually moving up to middleweight in order to become a two-weight world champion. He's the greatest MMA fighter of all time in the eyes of most, with Jon Jones being the only man who can really suggest otherwise – and even then, his past indiscretions make it difficult to back him.
Alas, as we're already stated, GSP is 'officially' retired from the sport, despite the fact that many believe he isn't done by a long shot. The argument is that if a fight with Khabib Nurmagomedov was to materialise in the future, he would come out of retirement and seize the opportunity with both hands. As reported by BJPenn.com and Bloody Elbow, Firas Zahabi tends to feel the same way.
The best there ever will be
"Georges is officially retired, but he still trains regularly in the gym, absolutely, all the time. We work together on a regular basis. We like to train. Just because he is retired, doesn't mean the training has to stop,"
"If something very interesting comes his way as an offer — this is just my opinion, I don't want to talk for Georges — I feel Georges still has that spark in him. I think he might come back if something really amazing comes about," he said. "But other than that, I think he's happy being retired. He's living a good life."
While he would almost certainly be taking on the unbeaten Russian sensation at lightweight, that doesn't seem to be the primary issue. The issue is that the likes of Tony Ferguson and even Conor McGregor are waiting in the wings, both of whom will argue that they deserve the shot at Khabib first.
What's next?
Obviously, Tony's case is a lot more convincing and he should face whoever wins the upcoming fight between Dustin Poirier and Khabib, but beyond that, it really does come down to whether or not Nurmagomedov wants to face Conor again or GSP (if he can get past Poirier). Logically speaking McGregor probably has to win another fight before a rematch can become a realistic possibility, whereas Georges probably just needs to be given a convincing offer of some kind.
The man is a legend, as we all know, but if he wants to come back purely to try and prove himself against Nurmagomedov, then we're not so sure there is much point to it. He's done what he needs to do in this sport, and there's a very good chance that things would go south against the champion.
We're not saying this because we don't believe in him, but instead, because we're worried El Cucuy will get passed over once again on the road to a title shot.