Verstappen Leads Red Bull to 1-2 Finish at the Spanish Grand Prix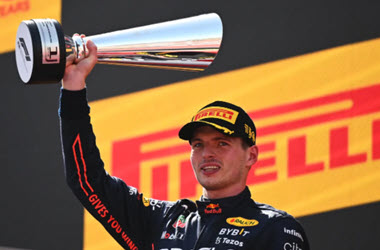 Max Verstappen, the reigning world champion of Formula One, reclaimed the points lead on Sunday at the Spanish Grand Prix after the Ferrari of race leader Charles Leclerc broke down on lap 26.
The breakdown put Verstappen, who was sitting 8.125 seconds behind Charles Leclerc, the break he needed after having his struggling Red Bull blown off the track due to high winds. It all but looked like a sure win for LeClerc until his Ferrari lost power and came to a near stop.
Red Bull immediately took advantage of the turnoff events by ordering Sergio Pérez to move out of the way for Verstappen in an attempt to capitalise on the points lead. The win was Verstappen's fourth of the season and his third back-to-back victory.
After the race, the Dutchman said the race was not easy, but they were able to turn it around before paying homage to Perez by calling is a great teammate. The Spaniard, who felt team orders were unfair, had taken over the lead after LeClerc's retirement was denied the chance of winning the race.
However, with the stakes as high as they are this season, and Verstappen behind Leclerc by 19 points, they desperately needed the points to regain the lead. Now, with a six-point advantage, Verstappen is once again in first with 110 points, while teammate Perez sits in third with 85.
The decision to force Perez to concede to Verstappen was not welcomed by Perez, who was overhead on the team radio saying, "I am happy for the team, but we need to speak later." Meanwhile, LeClerc stated his retirement was due to engine failure.
"I lost engine power and had to stop. I don't know what the problem is yet, but it hurts."
LeClerc's breakdown brought an end to what was an abysmal day for Ferrari, one that saw Carlos Sainz Jr dropping from third to sixth at the start of the race. Sainz, who was hoping for a hometown victory, also saw his car blown off the track in the same spot as Verstappen had to settle for a fourth place finish.
Finishing in third and earning his second podium finish this season, was Mercedes George Russell. The Brit drove brilliantly and had several epic battles with Verstappen and Perez in the battle for second and third place.
Mercedes, who has won five of the last six championships, has seen its fair share of struggles this season. Lewis Hamilton, who fell behind after coming into contact with Kevin Magnussen on the opening lap, ended his day in fifth place.
That didn't help Mercedes, who has struggled with their new race car make any improvements to the car they call "a work in progress". In five of those races, Russel has finished ahead of Hamilton, which is great news for the brit and team principal Toto Wolf.
"It was a very pleasing weekend with lots of positive signs, even though I'm not yet ecstatic. With Lewis we had probably the fastest race car of all. George put up a spectacular defense to Max, the way he positioned the car was spot-on, the kind of racing we love to see, and he managed the car well at the end to bring home another podium. We unlocked the potential of the car by tweaking things on the stops and so today was the most valuable race for us to compare the two cars. Our understanding took a big step forward and there's definitely more to come."
Finishing out the top 10 behind Verstappen, Perez, Russell, Sainz Jr, and Lewis Hamilton was Valtteri Bottas in sixth, Esteban Ocon in seventh, Lando Norris was eighth and Fernando Alonso and Yuki Tsunoda were ninth and tenth respectively.
For Lando Norris, the eighth place was one of the hardest he has ever driven due to the combination of head and tonsillitis he is suffering from.
"I was feeling really unwell before the race. I've been a bit on the backfoot this weekend as most of my energy has been spent fighting off this illness. I've had to miss a lot of engineering sessions, which has compromised my weekend, and I definitely wasn't as prepared for the Grand Prix as I could have been."
Next up for Formula One is the Monaco Grand Prix, followed by the Azerbaijan Grand Prix and the return of the Grand Prix du Canada in June. For race fans wanting to make their selection on who they think will win, the timing is perfect, as is signing up with any Canadian friendly bookies like Betway Sports, or BetOnline AG, both of whom offer competitive odds and great promotional opportunities.