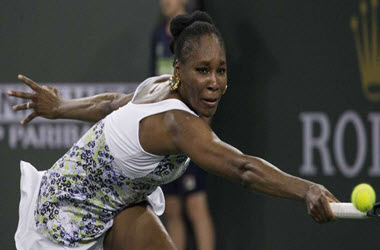 Serena Williams has made a triumphant return to the world of tennis after being off for 14 months. While off, she not only got married to longtime love Alexis Ohanian but also gave birth to a baby. While she failed to beat her sister Venus in the third round of the BNP Paribas Open, she clearly proved she is more than ready to return to the top of her field.
The rivalry that dates back more than 20 years between the two sisters saw Venus winning against Serena in two sets and giving the older sister her first win against her sister since 2014. It was also the first time the two played against each other since the Australian Open last year.
Speaking on Serena's comeback, Roger Federer said,
"That's going to be a huge story, maybe the story of the year. Hopefully, she decides to play a lot and enjoy herself in the process and get back to who knows how high? It almost doesn't matter, but it would just be amazing to see her do it now."
The night belonged to Venus though as the 90 minute match came to an end after a forehand from Serena went long. Serena made forty-one errors in the match, seventeen of those were forehands, so a bit rusty indeed, but as she gets back on the court, it is expected she will return to her past glory. It is expected that tennis sportsbetting sites will watch Serena closely as she works on her return ad gonig from unseeded to ranked.
"I'm just lucky that I've played more matches than her right now, she just came roaring back. I had chances for the match to be over, but it wasn't."
Venus Williams had a first set lead of 4-2 after breaking love against Serena. Venus was on top of her game scoring multiple laces, one that was clocked at 120 mph and another at 108 mph.
BNP Paribas Open
Said Serena,
"I definitely know her well, but she definitely played a little bit better than she normally does, she served very consistently. She just did everything great."
The second set also saw Venus dominating with an early 3-0 lead. Serena fought back to make it 5-2, and a wide shot on the line gave her the match point to make it 5-3. Serena continued to battle making it 5-4 after nailing an ace against Venus, but will two break points in the following match, Venus closed the set and match giving her the win with 6-4.
Commenting on shots missed, Serena said,
"Missing shots that I never miss, and so close. At least they're in the margin. I'm getting there. It's not exactly where I want to be, but I'll get there eventually."
While Serena retains an overall advantage of 17-12 over Venus, the sisters are even at 7-7 when head to head in WTA Tour matches. For Serena, she is not a fan of playing against her sister saying,
"I really abhor every time we play, but I do enjoy the battle when I'm out there. It's just afterwards I don't like it as much."
The two sisters are not fans of playing against each other, and that was clear with a one arm hug after the match, and neither of the sisters smiled. Serena left the court stone-faced. This was Serena's first WTA Tour event since her return after giving birth and getting married. For Serena, having husband and Reddit co-founder Alexis Ohanian courtside was welcomed.
"It's good that I don't have to say that this is the best tennis I have ever played and I lost. My room for improvement is incredible."
Venus has seen her world ranking improve to 8th, but Serena Williams is currently unranked due to her leave of absence. Generally, the two do not face off until further in a tournament, but being unseeded as Serena is saw the sisters facing off much earlier.