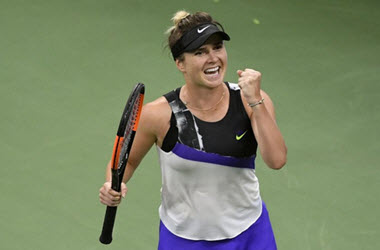 It didn't take long on Wednesday for Venus Williams to find herself in trouble during the opening set against Elina Svitolina after dropping more games than she did during her first round match on Monday.
Williams, who at 39 is nearing the end of her career did eventually step up her game and made the match a little more interesting. However, simply was unable to take control eventually losing 6-4, 6-4 to Elina Svitolina at a packed Louis Armstrong Stadium. Speaking on her win, one where the crowds were clearly there in support of Williams, Svitolina said,
"Thank you, guys, even though you didn't support me."
Venus Williams is one of the WTA's most popular players and has twice previously won the U.S. Open. However, those wins are well in her past having come in 2000 and 2001. The sister of Serena Williams, she has fourteen Grand Slam double titles with her sister and has won Wimbledon five times. Venus Williams is one of the sports most recognised voices and was a vocal proponent in equal prize money for women. Speaking about Williams's performance on court and her accomplishments, Svitolina said,
"It's unbelievable what she does, on the court and off the court. Really a big inspiration for everyone."
WTA
Williams, who is currently ranked 52nd in the world, appeared in fine form during her first round match against Zheng Saisai and dominated from beginning to end. However, the result against No. 5 seeded Svitolina was anything but. She went down almost immediate was down two games and made 23 unforced errors in the first set. While she managed to win the first three in the second, it was all she could muster to against Svitolina, who thereafter took control winning the second set and earning the victory.
In men's U.S. Open tennis news, Roger Federer and Novak Djokovic both have advanced to the third round after each was successful in defeating their second round opponents. The two, who faced off in the finals at Wimbledon last month are still feeling its effects, even with the rest taken since. Novak Djokovic is suffering shoulder issues, evident in his slower than usual serve speeds, and Roger Federer seemed slow at the start costing him the opening set.
Both will need to up their game if they hope to once again battle for the title. Federer, while healthy was able to come back after giving up his first set and defeat Damir Dzumhur of Bosnia and Herzegovina 3-6, 6-2,6-3. Djokovic, who defeated Argentina's Juan Ignacio Londero 6-4, 7-6, 6-1, was seen multiple times throughout his match to massage his shoulder. Commenting on the second round match, Djokovic said,
"I was definitely tested. This is something I've been carrying for a quite a while now. It wasn't easy playing with the pain and you have to fight and hope you get lucky with some shots."