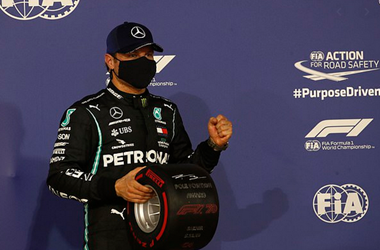 After teammate Lewis Hamilton was sidelines with the coronavirus this week, all attention was centered on Valtteri Bottas and Hamilton's replacement, George Russell. With Red Bull posting the fastest laps during the practise session, Bottas posted the fastest time in qualifying, with teammate Russel taking up the number 2 position.
Saturdays pole was the sixteenth in Bottas's F1 career and one he only managed to scrap ahead of as temporary teammate George Russel was a mere .026 seconds off the pace. Coming in third on the grid is Max Verstappen, while Ferraris Charles Leclerc earned the fourth spot and Sergio Perez of Racing Point took the fifth position.
Bottas, who has taken the pole position in five if the races this season, spoke to the media after qualifying stating:
"I'm happy to be on pole but it wasn't my best performance in qualifying."
While it was expected that Valtteri Bottas would be in the number one or two position, what wasn't expected was the performance of George Russell. After only having two days to become familiar with the Mercedes car, it pushed Bottas hard and made the job look easy.
Charles Leclerc, who had a breakout year last season, pushed his Ferrari hard and drive a terrific fast lap to earn the fourth grid position. Considering the troubles the Ferrari team has experienced this season, it was a achievement worth celebrating.
Sky Sports F1
Completing the top 10 was Daniil Kvyat, Daniel Ricciardo, Carlos Sainz Jr, Pierre Gasly and Racing Point's Lance Stroll. Toronto native, Nicholas Latifi, who drives for Williams and Kimi Raikkonen failed to advance to Q2 qualifying, while Sebastian Vettel, Lando Norris, and Alexander Albon ended their qualifying sessions in Q2.
Qualifying was looking goof for Max Verstappen after he posted the fastest times during practise. However, it was not enough when it came to qualifying as the Red Bull car struggled to match the performance of Mercedes. Commenting about the race in Sunday, Verstappen said,
"I hope we have a bit of fun tomorrow, all the lap times are so close."
Verstappen is positioned well for Sunday's start to the Sakhir Grand Prix and was only 0.56 seconds behind Bottas. With a strong start, considering his lap times during practise, Bottas could find himself fighting hard to stay in the front.
The week started out bad for Mercedes after learning of Hamilton's positive test results for COVID-19. However, with Russell's impressive performance during the practise sessions on Friday on such short notice, they are in good shape to continue their domination heading into the final few races of the season
It is unknown if Hamilton will return for the final race at the Abu Dhabi Grand Prix on the 13th of December. Currently, Hamilton is self isolation for the next ten days and then will need to get retested and check by team doctors to ensure he is fit to drive.
While this is not ideal for Hamilton, his not racing will have zero impact on the standings as he secured the championship the week before in Turkey. It was also in Turkey that Hamilton recorded his 98th pole in F1, shattering the record of 68 set by Michael Schumacher.
In other F1 news, it was announced that Michael Schumacher's son Mick has been signed by 'Team Hass next season. At 21, it will be his debut in a sport that his father dominated for over a decade, and one that will see the Schumacher name once again appearing in F1.