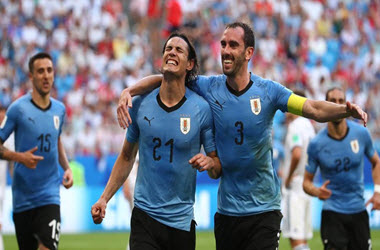 As the match between Russia and Uruguay got underway, anticipation was high for Russian fans hoping to see their national team defeat the favoured Uruguayans. However, their hopes were not to be as Uruguay defeated Russia in a 3-0 sweep.
The focus seemed to be on bad boy Luis Suarez in post-game interviews, yet for Suarez, he has been behaving well while in Russia. Maybe he has matured, maybe not. When asked why he always seems sad, his response was a curt "next question" with a big smile.
Suarez has been a big contributor to Uruguay's success in the group stage having scored two goals and helping to give the country three wins that propelled Uruguay to the knockout round.
Yet, even though they are to advance, taking the easy road wasn't in the cards. They went on to score three goals against the Russians with Suarez, Edinson Cavani and Denis Cheryshev each scoring goals.
Russia is also advancing to the knockout stage, but the loss to Uruguay saw the South American team jump to the top of Group A and will now face the 2nd place finisher from Group B on Saturday as the knockout stage gets underway.
Uruguay in the 2018 World Cup group stages.

Games: 3
Wins: 3
Goals scored: 5
Goals conceded: 0

With humility and hard work, we dream of the title and know we can do it. pic.twitter.com/KVXAVwul6g

— Warriors of Uruguay (@UruguayanHeroes) June 25, 2018
This was the 3rd shutout for Uruguay in this year's World Cup tournament. They also earned shutouts against Saudi Arabia and Egypt, and Fernando Muslera has yet to allow a goal in any of the six matches played so far.
That is pretty impressive, to say the least, and many top Canadian sportsbooks are taking notice of the skills and finesse that the Uruguayans have in their arsenal. For punters, it is the right time to look closely at the World Cup promotions that Canadian sportsbooks are offering and considering the betting opportunities and potential upsets on the horizon, now it the time to register and place your World Cup bets.
Speaking post-game about the success Uruguay has seen, Suarez said,
"After winning the first two matches 1-0, our goal was to get another. We wanted to play the same we had before, only better."
After victories against Egypt and Saudi Arabia and advancing to the knockout stage, the Russians have had their best World Cup performance since the Soviet era. Uruguay, however, is one of the better teams in the world and is ranked 14th overall, and for Russia, who are ranked 70th, it was a challenge they could not overcome.
Suarez scored first with a low shot that went past the wall of Russian defenders and into the corner of the goal. In true fashion, he sent a kiss towards fans as he celebrated the goal. As the all-time leading scorer for Uruguay, Suarez has racked up 53 goals internationally. However, his past has seen controversy during international events. While playing in the 2014 World Cup, he was sent home after he bit Italy's Giorgio Chiellini, and in 2010, he created controversy celebrating after a missed penalty kick by Ghana.
Denis Cheryshev made it 2-0 after a deflected shot outside the penalty area saw the ball slip past the Russian goaltender late to react. With Russian earning a second yellow card and going down to 10, Uruguay's Edinson Cavani made it 3-0 after a connecting with a corner kick and sending it past the goal line.
This is Uruguay's 12th World Cup appearance. They won their first World Cup title in 1930 and again won in 1950. They earned a 4th place finish in the 2010 World Cup and managed to make the round of 16 in Brazil.
Speaking about the quality of players on the national team, Denis Cherchesov said,
"It's clear that they have top-notch players, while we have very good players, too. I like how my team played after we lost one player. We were rather aggressive."
Uruguay and Russia will both now play top finishers from Group B. This includes Spain, Morocco, Portugal and Iran. For Russia, they will face off against the winner from Group A.