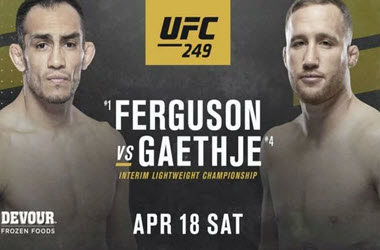 After a confident Dana White insisted that UFC 249 would be a go, on the 18th of April, he did a complete twist and called off the event citing concerns over a lack of venue and the COVID-19 pandemic.
White maintained that UFC 249 would carry on as scheduled as recently as this Wednesday, however, he has since postponed all upcoming events without any insight being offered when they will be rescheduled.
The turnaround on Thursday was on the same day that the organization was pushed to not continue with any high-profile fights, which for UFC 249, was apparently due to take place on tribal land in California. Commenting on the abrupt turn of events, the UFC said,
"While the organization was fully prepared to proceed with UFC 249, ESPN has requested the postponement of the event and subsequent bouts until further notice in light of the COVID-19 pandemic. The UFC looks forward to resuming the full live events schedule as soon as possible."
President of the UFC, Dana White advised ESPN on Thursday that the decision was made after receiving calls from the highest levels in the Disney Corporation. Commenting, White said,
"ESPN has been very very good to us and the powers that be there asked me to stand down and not do this event (April 18)."
The UFC recently has had to cancel a number of events due to bans on public gatherings related to COVID-19. The last televised event was held in Brazil in March but was without any fans in attendance. However, White was being firm on his insistence that UFC 249 would not be cancelled, a night that was set to feature the high-profile matchup between Khabib Nurmagomedov and Tony Ferguson.
CBS Sports
In an interview with ESPN on Wednesday, White stated that organizing the event was the hardest he has done but that it would happen on the 18th but would not elaborate where the fight would be held. Rumours put the event at the Tachi Palace Casino Resort in California but this was not confirmed by the UFC. Yet White did admit on Thursday that it was due to take place there with the lineup of fighters all ready to compete, including that of Canadian Sarah Moras and that each would still be remunerated.
While White was still confirming that the show was a go on Monday, he stated in a tweet that no spectators would be on hand and that all fighters scheduled wanted to fight. White faced problems with Senator Diane Feinstein who was concerned the event would be in direct violation of the state's shelter-in-place order. Commenting, Feinstein said,
"This event would involve dozens of individuals flying to California and driving to a casino for a purpose no one can honestly claim is essential. At best this event ties up medical resources and sends a message that shelter-in-place orders can be flouted. At worst, participants and support staff could carry the virus back to their home communities and increase its spread. I call on Ultimate Fighting Championship and the Tachi-Yokut Tribe to reconsider this event and delay it until a later date. We have to be responsible and mindful of all local, state and federal public health guidelines. Going ahead with this event is not the right move."
The night was to feature 4th ranked Justin Gaethje against Tony Ferguson after Nurmagomedo was unable to leave Russia as a result of a travel ban. Nurmagomedov was in the process of training for the fight in California was returned to Russia after the UFC put in place plans tentative plans for the fight to be held in the United Arab Emirates.
Ferguson and Nurmagomedov have been scheduled to fight five times since 2015 but as each fight approaches one is plagued with injuries that prevent them from fighting. That has seen the UFC postponing the fight London, Ohio, Portland, and now California. The UFC had hoped to move the event to behind closed doors in Las Vegas but after restrictions were tightened as the virus spread at an alarming rate in the US, the YFC were forced to look elsewhere with discussions about flying in fighters to a private island to stage the event. However, the UFC faced pressure from the Association of Ringside Physicians who called for the stoppage of all combat sports event until the pandemic was over. In a released statement, the Association of Ringside Physicians said,
"Any combat sport taking place during this global pandemic places the athletes, officials, and anyone else involved in the event under unnecessary risk of infection and transmission of COVID-10. In addition, combat sports athletes often require medical attention after a bout, and we do not wish to see any additional strain on an already overwhelmed medical system."