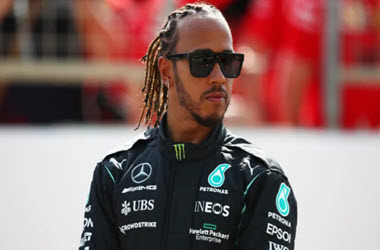 The race for the Formula 1 Championship will arrive in Austin, Texas, this weekend, and for seven-time champion Lewis Hamilton, it is a must-win weekend. Hamilton, who has faced stiff competition this season from Red Bull's Max Verstappen, is trailing the Dutch driver by six points after getting hit with a ten-grid penalty for an engine violation at the Turkish Grand Prix.
With the Formula 1 schedule down to its last eight races, Hamilton will be looking to retake the lead, and Verstappen will be looking to extend his lead. Ahead of this weekend and the following race in Mexico City, Hamilton disputed the suggestion that the U.S GP is a must-win due to Verstappen being the favoured to win in Mexico.
Hamilton, who has won the U.S. Grand Prix five times, considers the circuit in Auston his "happy hunting ground".
"It's important to win every race somehow, you know, maximizing our points, that's our goal over these next six races. It's going to be incredibly difficult and there will be moments where we can perhaps edge (Red Bull) out. I don't like to assume that Mexico is not going to be strong but they are usually very strong in Mexico."
The return to Auston and Mexico City will mark the first time F1 has had two races in North America since the beginning of the pandemic. Both races were cancelled last year amid safety concerns, and both require some finesse according to Nico Rosberg if either driver hopes to win.
Nico Rosberg
The good news for fans is this year has seen a wild back and forth battle between the younger Verstappen and Hamilton. Verstappen, who has won seven races this season, will face the challenge of outracing Hamilton at a track he has won five of the last eight races. However, Verstappen has proven himself as a serious contender at COTA, finishing second in 2018 and, in 2019, finishing third. With Red Bull in the lead and with a car that is fast and handles well, Hamilton will need to start at the front of the grid if he hopes to gain the advantage.
The positive news for Formula 1 is its announcement that it will be adding a fourth race in North America with next years Miami Grand Prix. That will see next seasons calendar featuring 23 races, and that could be expanded further to 24 races as talks are on-going about adding a race in Las Vegas.
The news about Las Vegas had many drivers, including Valtteri Bottas, joking that a weekend in Vegas may be more than they can handle.
"I had a big weekend in Las Vegas. After that, I said 'Never again.' I would be happy enough to go back. It was many years ago, so I've recovered. Honestly, having more races in the U.S. would be a good thing."
As for Hamilton, he has stated, supports F1 expanding in the U.S, and has said publicly that he loves the and particularly Hawaii and New York City and plans to retire to the island state,
"The place that I really feel is to my heart and most important for me, is to get a race back in South Africa. I think we got a great following out there, and I think it would be great to be able to highlight just how beautiful the motherland is."
Canadian driver Lance Stroll, who races for Aston Martin, is unsure how many races F1 should add to its schedule, believing there needs to be limits.
"If we start pushing the number we currently have, it becomes tough for everybody, for mechanics, for engineers, everyone has families back home. More races in the States would be good, I just think Formula One has to have a limited amount of races. It can't get out of hand."
Ahead of the U.S Grand Prix, the odds remain favorable for Verstappen to extend his lead, and that is ideal for fans wanting to bet on Verstappen coming away with his eighth victory of the season. Unless Hamilton wins or has a podium finish, or the Verstappen fails to finish the race, the gap between the two will likely grow further apart.