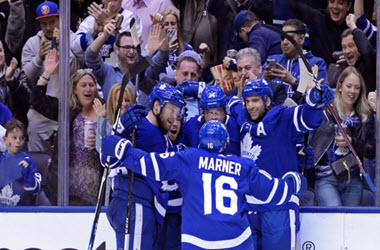 Toronto's Auston Matthews had reason to celebrate as Game 3 of their series against the Boston Bruins came to an end. First it was celebrating taking the lead, second, he finally earned his first goal in the series.
Matthews was integral to the success of the Toronto Maple Leafs last night scoring one goal and setting up another as the boys in blue went on to defeat the Bruins 3-2 and take a 2-1 lead in a series that is expected to take its toll on the winner.
It was a night that saw Frederik Andersen stop 34 shots and Andreas Johnsson scoring a goal, and it also saw Trevor Moore scoring and Jonsson, Matthews, Tyler Ennis, Mitch Marner, Morgan Reilly and John Tavares earning assists.
The opening game of the series Toronto dominated the Boston Bruins winning 4-1 in Boston but failed equally in Game 2. Commenting on the win in Game 3, Auston Matthews said,
"It's nice to get one. It's just another level when you score a goal in the playoffs, especially at home. I've said this before, it feels like an earthquake under you. The atmosphere tonight was unbelievable, and we just want to continue what we built off tonight here on Wednesday (in Game 4)."
Sportsnet
Charlie Coyle and David Krejci scored for Boston and Tuukka Rask has 31 saves. The Scotiabank Arena was nearly sold out with 19,611 in attendance and support for the Maple Leafs drove them towards the win. Brad Marchand saw the difference between Game 2 and 3 commenting,
"They played hard. They upped their compete level. Ours wasn't as good as it needed to be. But we're right there, we had some opportunities to tie it up late. The difference was special teams. We'll clean it up and get ready for the next one."
An hour before the puck was due to drop, the Maple Leafs were advised that Nazem Kadri was handed a suspension for the remainder of the series. This was as a result of his retaliatory cross check against Jake DeBrusk in Game 2 during the third period.
Toronto took to the ice determined and upped their game physically after being dominated by Boston on that front in Game 2. They took an early lead in the second after Trevor Moore snagged a loose puck that was the result of a Morgan Reilly shot that bounced around Rask's pads. It was Moore's first playoff goal, and with Tyler Ennis and Frederik Gauthier joining the fourth line, they proved effective in the offensive zone.
The Bruins scored to tie it less than a minute later, and Rask put a stop to an attempt by Tavares later in the first after he was shoved into the goalie by Charlie McAvoy. Matthews scored Toronto's second goal to put them ahead 3-1 just seconds after David Backes was sent to the penalty box for high sticking against Kasperi Kapanen. Boston managed to again tie the game during a power play in the second and less n 40 seconds to go but with a scoreless third period, Toronto was able to hand on to their one goal lead and come away with the win.
That is good news for sports punters hoping for positive results from Toronto in the post-season, a team known for failing to follow through and advance after strong starts. Registering with one of our recommended sportsbooks, such as Bodog, will see punters having the opportunity to maximise their better bankrolls courtesy of maximum $200 welcome bonus. Signup today and maximise your results!