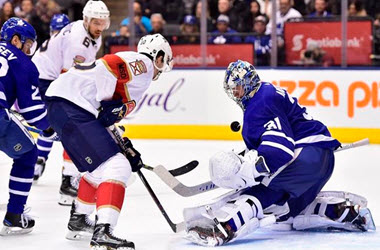 The Toronto Maple Leafs set a franchise record last night with their 4-3 win against the Florida Panthers. Last night's win saw the Leafs winning their 46th game of the season, and with it, setting a new record for wins in a single season.
James van Riemsdyk also had a milestone last night scoring his 35th of the season. It also saw him record his 200th career goal. Mitch Marner joined in the celebrations by scoring and increasing his point earning streak to ten games, as did Patrick Marleau and Auston Matthews who respectively scored their 25th and 30th goals of the season. Frederik Andersen 30 saves to give him his 36th win and a career-high.
The Panthers Evgenii Dadonov and Jonathan Huberdeau each scored and goaltender Roberto Luongo made 31 saves on the night.
This was the 27th win at home for the Leafs, who are in position to secure a playoff spot should the Flyers not win in their Wednesday game against the Colorado Avalanche. Florida continues to sit three points behind the Devil with one game remaining for the 2nd wild card spot.
The Leafs were in the midst of a 13 game home winning streak until the Sabres won on Monday to bring that streak to an end. Last night's game saw van Riemsdyk on a breakaway that Roberto Luongo stopped cold. However, the Leafs rallied back with a goal by Marner. Luongo also put a stop to a shot from Bozak but was unable to do much with a shot from Matthews during a four-on-two rush.
Toronto Maple Leafs
Matthews is coming off a rookie season that saw him scoring forty goals, yet this season has seen him on the injured list and missing twenty games yet still he has managed to score twenty-five goals so far in the regular season making him a hot commodity for Toronto.
The Leafs extended their lead over the Panthers 3-0 thanks to a goal by Marner, who has earned thirty points in the previous twenty games and entered the NHL history books as 33rd on the all-time list. At the ripe age of 38, Wednesday night's goal was his 533rd goal in his career.
The Panthers managed to close the gap to 3-1 with a goal by Huberdeau in the third period and again scored after Huberdeau scored his second of the night at 15:08. Florida continued to push hard desperate for points during crunch time with Dadonov scoring his 25th of the season with only 1.26 left, however, were unable to tie the game and watched the Leafs take the win after a desperate third-period push.
The Maple Leafs will next head to New York to face the Islanders and then will be off to Winnipeg for a 7 pm game against the Jets. The Panthers are scheduled to play Ottawa tonight and then will head to Boston for a Saturday night game.