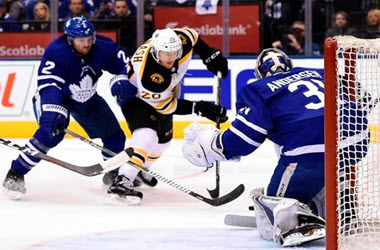 The Toronto Maple Leafs knew Game 4 could be a deal breaker, remain in the hunt to win round one and advance in the playoffs, however with only themselves to blame, they Leafs failed to get it done losing to Boston 3-1.
Boston's Patrice Bergeron, one of the league's best forwards suffered an injury to his upper body and just before the game was to begin Boston made a line change in what should have given the Leafs a small advantage, however, this was not to be.
Commenting on Bergeron, Mike Babcock said,
"When Bergeron doesn't play tonight, you're set up pretty good. You have to find a way to win, this is our building. You have to find a way. We were set up pretty good; we didn't take advantage of it. That's on us."
Toronto had control of the puck for 66% of the game last night and were 63% during faceoffs, and while not outplayed, the battle came down to which team took advantage of their opportunities the most, in this case, that was Boston. The Maple Leafs had hoped to tie the series after Game 3 saw them win 4-2 over the Bruins, but Boston responded in kind with a fierce focus last night.
Boston's Tony Krug set the pace a mere 28 seconds into the first period, and for Toronto, the writing almost seemed on the wall. The Leafs responded when Tomas Plekanec, who replaced Nazem Kadri while on suspension joined Mitch Marner and Patrick Marleau and scored to tie the game 1-1.
Toronto Maple Leafs
The Leafs bungled multiple scoring opportunities last night including a failed breakaway by Marner and another with Marner and Marleau on a two-on-one that saw Tuukka Rask getting the upper hand.
The Finnish player was on his game last night and far outperformed Frederik Andersen with 31 saves compared to Andersen letting in three. The Bruins took full advantage of their opportunities and struggled little getting the puck into the net.
Brad Marchand scored for Boston to make it 2-1 and a turnover by Travis Dermott saw Jake DeBrusk putting in the third for Boston, and for Toronto, that was their night finished.
Speaking on the margin of error when in the playoffs, Ron Hainsey said,
"The margin when you're down 2-0, the margin for error is slim. You can play two great games and still not get the bounces you need – 2-0 is slim, so you have to make chances count."
Babcock mentioned, that there is competitiveness during the regular season, and playoff competitiveness, and with each round, that amps up adding,
"In order to find that out, we're going to have to play better than we are right now. But, in reality, when you leave here tonight as an individual, as a coach, as a player, you have time to evaluate yourself and most guys are pretty honest."
The Leafs have some serious assessing to do before going into Game 5, this is even more so for Nylander and Matthews, two of Toronto's best players. The two are both under-performing with each only earning one point a piece. They are the strongest offensive players the Leafs have and while Game 5 will see Kadri back in the saddle, things need to change.
Head Coach Mike Babcock made line changes to get the duo out of the way of Patrice Bergeron but Chara has been on the ice for more than forty minutes against Matthews, halting play after play with his dominating 6ft. 9 presence.
While Toronto has high numbers when it came to puck possession, the Leafs top line struggled to get the puck in the net scoring only once in Game 4. For Babcock, he felt that Austin Matthews believed he would hit the ice and dominate tonight's game, saying,
"That didn't happen. Not enough happened when they were on the ice. I'll look at the tape and we'll discuss it with our guys."
Game 5 gets underway on Saturday, so no matter where it takes the Leafs, they will not have much time to find a solution to the imposing Bruins. The only way to advance now is a three game winning streak and the odds of success in doing so are slim. The only goal Toronto can have is to win – win and keep winning.
While speaking post-game. Babcock, head coach for the Maple Leafs said,
"We're in a simple situation – you win, you get to play again. You don't win, you don't get to play again. That's worth digging in for, I think we can go into Boston and win a game, I really believe that. We're going to need a game out of our goaltender and we're going to need all hands on deck to have success."
The series now goes to game 5 and whether the Maple Leafs live to see Game 6 will be seen on Saturday at the A.C.C. If the live to fight another day, they will head back to Boston for Game 6 and back to Toronto for Game 7.