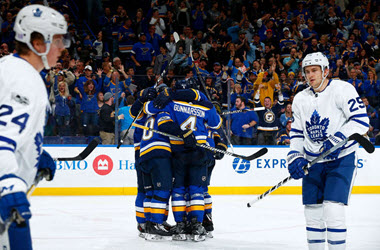 After a successful start to the season that saw the Toronto Maple Leafs at the top of the league and winning five back-to-back games, they welcomed the St Louis Blues to the Scotiabank Arena in Toronto last night and lost 4-1, it was their second straight loss of the year.
Morgan Rielly scored Toronto's only goal of the night pushing up his season points total to fourteen. Jake Garner and Mitch Marner both earned assists bring their points total to six and twelve respectively. Frederik Andersen made 21 saves on the night.
Ivan Barbashev scored for St Louis, as did Robert Bortuzzo, Zach Sanford and Ryan O'Reilly, who was recently traded to St Louis from Buffalo. Earning assists were Ryan O'Reilly, David Perron, Patrick Maroon, Alex Pietrangelo and Vladimir Tarasenko. Jake Allen has 23 saves.
The Maple Leafs had a blistering start to the season scoring thirty-three gals in their first seven games, but after suffering their first loss to the Penguins on Thursday, and again last night to St Louis, it seems that has been quelled. The Leafs have only managed to score one goal in the last two games going nearly 120 minutes scoreless before Morgan Rielly scored in the third period to put Toronto on the board.
This was the first game back in Toronto for Tyler Bozak, who chose to move to St Louis Blues this summer while in free agency. Call it luck, or possibly just good fortune, Bozak, who was with the Leafs organisation for nine years was pleased with to see his new team walk away with the win.
Last night's win gave St Louis their second of the season, after losing five of their first six games. The franchise overhauled their roster in the offseason signing David Perron, Pat Maroon and Ryan O'Reilly and were hopeful for a better start but are confident they are on the right track.
Sportsnet
The first period went scoreless for both Toronto and St Louis, but early into the second a shot from Robert Bortuzzo bounced of Travis Dermott's stick and slipped past Andersen to give the Blues a 1-0 lead.
Andersen made some excellent saves last night but was unable to do much to stop Zack Sanford's wrist shot into the top right corner with 6.55 left to go in the second after Toronto seemed helpless to get the puck out of their end zone.
Morgan Reilly scored Toronto's only goal just under the five-minute mark of the third, but it was too little too late as the Leafs failed to capitalise on scoring opportunities for the second game in a row.
Last night's goal by O'Reilly was his first since dawning the Blue's jersey after he was alone in front of Andersen while St Louis was on a power play and in position to accept a pass from Vladimir Tarasenko.
Leafs fans were not happy, and many could be heard booing as the third period ended, after five wins in a row, it felt a little harsh even if the Leafs only had eight shots in the second and third periods.
The Maple Leafs will be looking to regain their winning streak on Sunday as they visit Winnipeg before returning to Toronto to welcome the Jets on the 27th. Even though the Leafs have faltered the last two games, hockey betting fans keen on betting on the Leafs will find multiple top-ranked sports betting sites offering excellent odds for Toronto.
One preferred betting.ca hockey betting site is 888Sports, and with a signup bonus of $250 up for grabs, punters have few reasons not to register and get in their bets. Why wait, signup today and claim this lucrative signup bonus today.