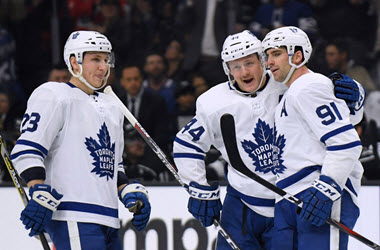 Mitch Marner and Auston Matthews made celebrity guest appearances in the Toronto production of The Nutcracker on Wednesday and after taking to Twitter to joke the two deserved the night off, Roberto Luongo, he wished they had after Matthews scored twice and helped lead the Leafs to a 6-1 victory over the Florida Panthers on Thursday night.
Matthews showed his appreciation for Luongo's humour by scoring two goals and setting up two others and earned four points for his efforts. John Tavares also scored twice, Mitch Marner scored once as did Nazem Kadri. Earning assists for the Maple Leafs was Morgan Reilly with four, Mitch Marner earned two and Nazem Kadri, Connor Brown, Kasperi Kapanen and Martin Marincin each earned one assist each.
Coach Mike Babcock felt the team started on time and as far as he is concerned, that is how it should be. Last night was Mathews the 18th time he scored a two goal night and is now sitting with 19 goals for the season. John Tavares said Matthews makes it look easy adding,
"At times he makes it look easy — a lot of the time he makes it look easy — and this league definitely is not easy. To do it at this level that consistently is a testament to his skill set and his attention to detail. No question he's got one of the best shots in the game."
Toronto's power play finally seemed in order last night going 3 for 3, which after going 1 for 25 before last night, it was a welcome relief for bookmakers such as Bodog, who monitor stats closely to help set odds. Those interested will find up to $200 in signup bonuses at Bodog, a highly respected Canadian favoured sportsbook that offers NHL betting.
Sportsnet
Morgan Reilly added four more points to his season tally and was the first this year to earn 40 points among the league's defencemen. Even with a strong win record this season and second in the standings, Matthews commented that,
"We hadn't been good enough lately. Even against these guys last Saturday in Florida we were terrible. It's good to get back on track."
Henrik Borgstrom scored Florida's only goal and earning an assist was Jared McCann and Frank Vatrano. Frederik Andersen had 26 saves and Luongo 17 before being pulled and replaced by James Riemer. Florida coach, Bob Boughner commented that,
"After about the first 10 minutes, it was just a good hockey team playing a team that didn't look very good. We had too many passengers. If you don't have 20 guys all playing the same way, you can get blown out."
The first 18 minutes of the first period went scoreless, and it wasn't until the final two minutes that Toronto scored their first goal after Mitch Marner played sitting duck to draw attention away from Matthews before firing off a pass that saw Matthews scoring past the pads of Luongo.
Matthews's second goal put the Leafs ahead 2-0 early in the second period after getting in on the receiving end of another pass from Morgan Reilly. Matthews is now only behind Alex Overchkin, who has 19 two goal games.
The Maple Leafs will welcome the New York Rangers on Saturday night before welcoming the Red Wings on Sunday for two-back-to-back games prior to taking time off over the holidays.