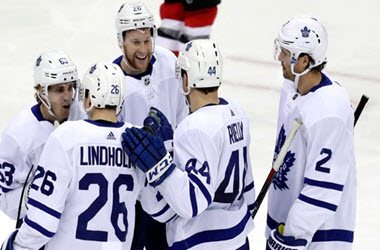 The New Jersey Devils welcomed the Toronto Maple Leafs last night, and after the final buzzer rang, it was the Devils who were treated to the power of Auston Matthews, Patrick Marleau and John Tavares.
The Toronto Maple Leafs came on strong last night with all four lines playing their part, from defence to goaltending, it came together like a perfectly choreographed lesson in what it takes to be on top of your game.
Mitch Marner, who scored the Leafs fourth goal of the night, stated that he felt they came ready to play last night adding,
"I think tonight we came out ready to play. We know they've got a good team over there … so we knew coming in here was going to be a hard match and I think we came in, got the puck behind them which is what we needed to, and that's why we were successful."
After the first 14 minutes of lay in the first period, it seemed almost over for the New Jersey Devils after Auston Matthews, Patrick Marleau and John Tavares each scored to put the Maple Leafs ahead 3-0. Also scoring for Toronto was Tyler Ennis with two goals and Morgan Reilly with one. Sports punters hot for NHL betting will find sportsbooks such as BetOnline.ag are placing excellent odds in favour of the Leafs, and that means excellent profit opportunities can be had.
Assists were awarded to Connor Brown, Nazem Kadri, Auston Matthews, John Tavares, Jake Gardiner, Travis Dermott, Par Lindholm, Patrick Marleau, Morgan Reilly and Mitch Marner. Frederik Andersen has 27 saves for the evening, and Kadri matched a career high of three assists.
Sportsnet
Last night was Toronto's 7th win in their last eleven games, and with it, Frederik Andersen made 27 saves to improve his road trip record to a 2-2-1. Commenting on last night's results, Nazem Kadri said,
"For us, we hadn't been getting the results we've wanted to get over the past week, week-and-a-half, and it was about time for us to stand up and I thought we responded well."
Nico Hischier and Sami Vatanen scored for New Jersey, and earning assists was Brian Boyle, Taylor Hall and Kyle Palmieri. The Devils have continued to struggle over their last fifteen games having won only three. Goalie Keith Kinkaid was pulled 10 minutes into the second period after giving up five goals on 21 shots. The nights' disappointing results was not lost on coach John Hynes who stated,
"Tonight is not something you can just look past. We have to dig into it and get some answers."
It didn't take Toronto long to get on the scoreboard after a three on two rush that saw Matthews passing the puck to Nazem Kadri who passed to an open John Tavares. Less than 75 seconds later, Auston Matthews made it 2-1 before Patrick Marleau made it 3-1. Mike Babcock, coach for the Toronto Maple Leafs said,
"I don't know if we maintained it for 60 (minutes) but we really started good, came out, got on the cycle and scored some big goals," Toronto coach Mike Babcock said. "Good win for our team."
As the first period wound down, New Jersey finally got on board after Sami Vatanen sent a wrist shot past Andersen. Toronto responded in the second period with a goal from Morgan Reilly and beyond the second goal by Nico Hischier, the efforts by New Jersey were all but in vain.
Toronto will next play host to the Florida Panthers on Thursday before welcoming Detroit on Sunday. They then will resume after the break with a one game road trip to take on the Columbus Blue Jackets before returning home to face the New York Islanders.