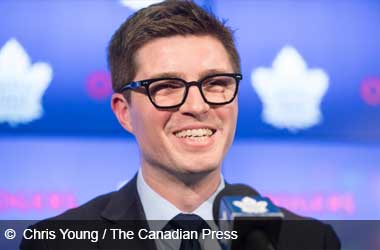 NHL teams were in full swing this weekend during the NHL Draft weekend, and one of those was the Toronto Maple Leafs, who picked up six new prospects. Toronto, who gave up the opportunity to trade for a first round pick on Friday also chose to keep all of its seven selections but one during Saturday's second to seventh rounds. Instead, they chose to give up their seventh selection in exchange for a seventh round selection in the 2020 draft to the St. Louis Blues.
While top Leaf's brass were busy on the floor, Kyle Dubas (GM for the Leafs) was active off the floor completing items on his list of things to do in the off-season. The first of those was trading Patrick Marleau on Saturday to the Carolina Hurricanes in exchange for a first round pick in next year's draft.
That trade allowed the Leafs to free up $6.25 million and providing the organization with the ability to attract top talent to help its defence but also helping to keep Kasperi Kapanen, Andreas Johnsson and Mitch Marner with the team.
Mitch Marner is currently negotiating his contract extension and is expected to see the Leafs paying the forward close to $10 million a season, and that left Toronto needing to free up funds to secure its other top talent that is up for free agency this season. During an interview with the media on Saturday in Vancouver, Dubas admitted that the organization hasn't the room to re-sign Jake Gardiner and that leaves it defence with Travis Dermott, Morgan Rielly, Jake Muzzin and Nikita Zaitsev as its top defencemen. Adding to the woes the Leafs are facing, Travis Dermott will remain sidelined while he recovers from surgery to his shoulder and Zaitsev has requested to be traded. Commenting, Dubas stated,
"We would like to be able to keep that on the front burner, but until we solve Mitch's situation, it's impossible to engage with anybody."
Sportsnet
However, until Toronto secures a contract extension agreement with Marner, Dubas has chosen to keep moving forward reporting that it, for the most part, has a deal in place with Kasperi Kapanen that will extend his time with the organization for another three years at an estimated salary range between $3.2 and $3.4 million per season. They also are near complete in securing a four year extension with Andreas Johnsson for between $3.25 to $3.5 million per season. However, until the Leafs know the more on the situation with Marner, they may opt not to make those deals official.
While the organization works out those deals, they also focused on its future by picking up three defencemen and three forwards from this year's 2019 NHL Draft. That includes Nicholas Robertson (left wing), Mikko Kokkonen (defenceman), Mikhail Abramov (centre), Michael Koster (defenceman) and Kalle Loponen (defenceman).
2019 NHL Draft Picks
Nicholas Robertson:
Robertson, who at 17, plays left wing with the Peterborough Petes was drafted 53rd overall, has 27 goals and 28 assists last season. He brings a dynamic ability to the offense and is skilled with the puck. Known for his work ethic, he is a strong forechecker and comes in at 5-foot-9 and 161 pounds.
Mikko Kokkonen:
Kokkonen, at 18, currently plays defence with the Jukurit Milkeli in Finland and was drafted 84th overall in the third round. He went into the draft ranked 10th and is known for distributing the puck well, is reliable in the defensive zone, able to contribute in the offensive zone and is strong during power plays.
Mikhail Abramov:
Abramov was drafted in the fourth round and currently play centre with the Victoriaville Tigres in the Quebec Major Junior Hockey League. He scored 16 goals, earned 16 assists last season and while smaller at 5 foot, 10 inches, he is seen as a player with a solid shot and a strong playmaker with patience.
Nicholas Abruzzese:
Abruzzese was a fourth round draft pick for the Leafs and at 20 years old, plays centre with the United States Hockey League for the Chicago Steel. Abruzzese scored 29 goals last season, earned 51 assists and is known for his confidence after leading the United States Hockey League in scoring last season.
Michael Koster:
Koster was chosen in the fifth round, plays defence with the Tri-City Storm in the United States Hockey League but spent the largest part of last season with his high school team. He is known for being skillful in his own end but needs development in speed as he matures on the ice and could become a threat offensively as he develops.
Kalle Loponen:
Loponen was selected in the seventh round, plays defence with the U-20 National teams in Finland, and is known for moving the puck, skating smooth and strong offensively. He scored two goals and earned seven assists last season and is expected to play in Liga next with the Kalpa Hockey Oy.