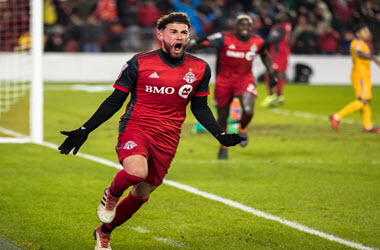 The question of whether Jonathan Osorio would remain at Toronto FC was one that unknown in the coming off-season. Osorio has come to be one of TFC's leading scorers this season and had multiple teams interested in signing the Toronto native.
That question is no longer one that is looming over the heads of TFC management as they announced formally that they have agreed to a contract extension with Jonathon Osorio that will see him remain with the club. The announcement was made by Bill Manning, president of TFC on Thursday afternoon. The deal will see Osorio becoming one of the highest paid Canadian on the team and in the world.
During the press conference, Manning added that the Osorio deal involved funds from the Targeted Allocation Money. This is a special fund each club has that allows them to sign players below which the league sets as a threshold. Osorio's current contract pays him $209,825, which based on his skills is low.
Prior to the contract extension, Osorio was looking at moving to other leagues overseas to test his skills. That news saw several teams in Europe and Mexico expressing interest in the Canadian, with one club from South America going as far as to have meetings with Osorio.
During the conference, Osorio stated,
"Honestly I'm really happy that we got this done. I'm really happy that I'm going to be home, I've worked really hard to be at this point, to make it to this point. Saying that, I'm not done. There's a lot more I want to accomplish and there's a lot more I want to accomplish for Toronto, for the city, for the fans and for this team."
Toronto FC
The extension is a major achievement for Toronto as Osorio is having his best season to date. In a year that has seen the team struggling, he is one of the bright spots as they sit on the edge of failing to make the playoffs.
He is second in scoring on the team, with nine goals and was one of the star players for Toronto in the CONCACAF Champions League. He joined Sebastian Giovinco as the top scorer in the series and made the all-star team for the tournament
Toronto has seen a number of its key players suffering injuries this season, but he has been one that is more durable on the field. There is only one other player, Captain Michael Bradley, who has played more minutes. He is far more poised when in front of the goal and that has increased his confidence. That is evident in his performance and control on the field.
Bradley has taken notice of the improvements in Osorio mentioning that,
"He's been very good, there's now two ways about that. The part that everybody sees is the goals, and he's scored some very important goals for us, so that part has been great. But his continued growth and improvement has been great to see."
Bradley added, when speaking about his improvement, that,
"He's a guy who at different times over the last few years, it's not always gone perfectly for him, it's not always gone his way. But his mentality to keep at it, to keep working and to keep trying to improve himself has meant that he always comes out stronger for it."
As the regular season wraps up, Osorio will play a key role in helping TFC if they are to secure a playoff spot. For punters, the news of the contract extension will boost confidence in placing bets in favour of TFC in future games this season, but also next should they not advance to the post-season playoffs. Those interested in signing up with one of recommended Canadian friendly soccer betting sites will enjoy generous bonuses. One of those, Spin Palace Sports, is offering new players up to $2500 in sign-up bonuses and coupled with regular sports promotions, this is an offer well worth taking. Register today before the MLS playoffs get underway.