Blue Jays Urged To Drop Pitcher Anthony Bass Over Anti-LGBTQIA+ Comments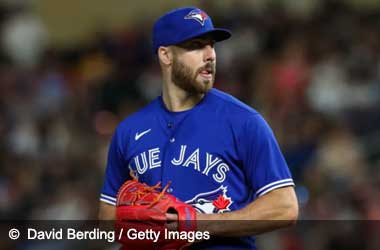 Summary
Anthony Bass has created an issue for the Blue Jays with his anti-LGBTQIA+ comments
LGBTQIA+ community push for Blue Jays to drop or transfer Bass
Bass has since issued an apology to the LGBTQIA+ community and the Blue Jays
The Toronto Blue Jays and pitcher Anthony Bass have found themselves in the midst of a social media backlash after Bass decided to make anti-LGBTQIA+ comments that have triggered widespread anger on social media from the baseball loving LGBTQIA+ community.
What Exactly Did Anthony Bass Do?
Some of the big names in North America including Target and Bud Light have ran ads to promote and support the LGBTQIA+ community. A number of Christian churches and Christians on social media have denounced these ads and have warned Christians to think twice before buying anything from such brands that support the LGBTQIA+ community as it was against what the Bible taught. 
Anthony Bass who stirred up trouble last month decided to share one of these videos on Instagram that warned Christians to avoid such brands. The clip that he shared also had a line which called the promotion of the LGBTQIA+ community demonic and asked Christians to avoid these brands.
Bass who has just over 34,000 followers on Instagram did not expect his post to go viral and get the attention it did. The LGBTQIA+ community reacted immediately over the post and asked the Toronto Blue Jays to take action against Bass for causing anti-LGBTQIA+ sentiment.
Many users also called on the Blue Jays to cut Bass for the team or transfer him for upsetting the LGBTQIA+ community.
Canada's minister for sport, Pascale St-Onge also got involved and said Bass sharing such a post was dangerous and could harm lives as St-Onge said no one should ever feel bad about being themselves.
Bass Forced To Issue Apology To LGBTQ Community
The LGBTQIA+ community once again proved how strong they are as they got Anthony Bass to issue an apology. Bass told the press that he was truly sorry for sharing such a post and hurting the sentiment of the LGBTQIA+ community.
Bass also said that he spoke to his Blue Jay teammates and also issued an apology to them for his actions on social media and said that he would take advantage of the resources that the Blue Jays offered to get a better understanding of the LGBTQIA+ community and make better decisions going forward.