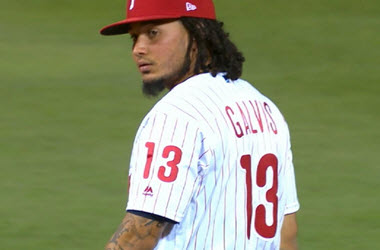 The Toronto Blue Jays announced on Tuesday that they have signed shortstop Freddy Galvis to a one year contract to shore up their defence for the upcoming season. Galvis is expected to be on hand in Dunedin for Spring Training in February.
It is expected that Freddy Galvis will be a big part of the Jays lineup this season after posting a 1.2fWAR last season. It put him in fifth place with other position Blue Jay players and few can argue that when it comes to shortstops, he's the best they have.
His averages may not have been the best coming in at .248/.299/.380, however, he did score thirteen homeruns last season and stole eight bases, and collectively proved his worth to the organisation. In addition to that, Galvis did not miss a single game last year and went to bat no fewer than 600 times over the last four seasons.
The deal is worth $4 million and ensures the Jays retain a player that is more than capable of providing a strong defence. His plus 7 DRS (Defensive Runs Saved) mark over the last season and 1400 innings puts him in the top eight of MLB shortstops.
Joining Galvis is the recently signed Lourdes Gurriel Jr, who had one of last season's hottest streaks producing eleven hits in a row, lost time in his rookie year due to hamstring, ankle and head injuries. However, at 25, Gurriel has displayed bat handling potential but glove handling needs improving, and that may very well see him in a super-utility role in the future.
It might be cold outside, but these plays are 🔥🔥🔥

Welcome aboard, @freddygalvis10! pic.twitter.com/yCeovaJGEQ

— Toronto Blue Jays (@BlueJays) January 29, 2019
Gurriels last season minus nine defensive runs saved in 351 innings did not help matters, but as the season gets underway, you can expect Charlie Montoyo to see a variety of players rotating in the midfield, a move that Tampa Bay, and Gurruels former team, did last season.
The contract gives the Toronto Blue Jays the option to renew for 2020 and that is a good deal for Gurriel is he has a good year in 2019. The first game of the season will see the Detroit Tigers heading to Toronto for its home opener on March 28th for a three game series, and it is expected Gurriel will take to the field.