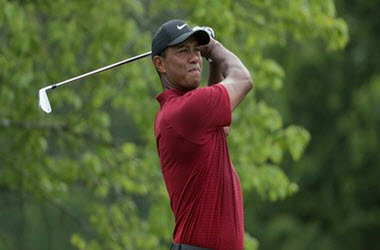 Tiger Woods has been one of the, if not the most prominent player in the game of golf since Jack Nicolson. After it was announced that Woods would join Phil Mickelson and joins Bryson DeChambeau as wilds cards for the U.S Ryder Cup team, it never realized it would mean as much.
For Tiger Woods, the announcement is the icing on top of the cake after a year that saw Woods coming back to the tour after his fourth lower back surgery. As for Mickelson, the Ryder Cup is familiar territory and this year will mark his 12th, and at 48, Mickelson feels it most likely will be his last at winning the Ryder Cup trophy.
On Monday, Jim Furyk. Captain of the U.S. team added Woods, Mickelson and Bryson DeChambeau as his wild card selections. In late February, Woods agreed to be vice captain and hopes that as the Ryder Cup begins, to be a player.
Looking back at the year, Woods said,
"It's incredible, it really is, to look back at the start of the year and now to have accomplished a goal like that. To be a part of this team, and now to be a player is just … beyond special."
Since 1995, Phil Mickelson has been on a streak that saw him qualify for the Ryder Cup team. In doing so, he surpassed the record of 11 appearances set by Nick Faldo. At three of the 11 previous appearances, he has been on a winning team. The first was in 1999, the second in 2008 and the last in 2016. In 2016, during the press conference after winning, Mickelson the direction the PGA of America was taking the team.
Those questions led to the structure of the U.S team changing dramatically by providing players on the team a far stronger voice. Speaking on the wild card spot, Mickelson said,
" I set out this year on really a strong commitment and journey to get on the team. I got off to a great start this year. It's been a really good year, and although I fell just shy of making it on points, it feels great to be a part of this team and serve this team in any way I can."
ESPN
Mickelson and Woods were the most logical ones to be chosen, especially after Woods took over the lead, albeit for a brief time, at the British Open. Woods finished the tournament in second. While Mickelson hasn't won since March, he was still a top contender.
The twelve spot is expected to go to Tony Finau after Furyk invited Finau to join him with a small group before the British Open got underway. While playing with Furyk, he recorded ten birdies during the second round and showed Furyk what he could bring to the team.
The other members on the team, who all qualified automatically, include Dustin Johnson, Bubba Watson, Brooks Koepka, Justin Thomas, Webb Simpson, Rickie Fowler, Jordan Spieth, Patrick Reed and Brooks Koepka.
Furyk believes that playing on foreign soil with present them with an interesting crowd. Furyk added that,
"They are boisterous, I have a lot of respect for them, and we are looking for players that we thought would handle that situation well and would thrive, love the challenge. And naming these three players, that's what we've done."
While Woods was asked to be vice captain, that is no longer the case. However, Furyk is expected to use Woods for advice. Furyk instead has chosen David Duval to take the vice captain position. Joining in the vice captaincy role will be back-ups Matt Kuchar and Zach Johnson.