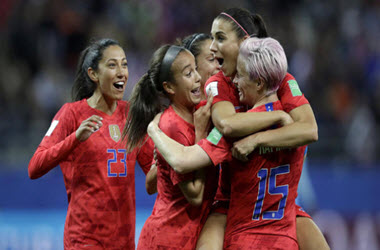 The Women's World Cup has proven one of jubilation and sadness for Thailand after scoring their first World Cup goal only to lose the match to Sweden. For Kanjana Sungngoen, it was a moment she will soon not forget.
Raising her arms high in the air, Sungngoen made history for Thailand when behind 4-0 she scored the team's first World Cup goal. While the reality was they would lose the match, the goal was one needed for moral after they lost their opening match to the United States, one that saw the U.S. team behaving unsportsmanlike in their celebration.
The goal saw the Thailand flag waving in the crowds are supports were on hand to cheer on the struggling team. Not even the final whistle could dampen their spirits, nor could a penalty kick by Sweden's Elin Rubensson that made it 5-1 and advancement into the final 16. Speaking about the goal, Sungngoen said,
"Everyone was very happy that we at least scored one. The whole team is very glad."
The goal did little to help Thailand who remain at the bottom of Group F. However, Thailand's coach, Nuengrutai Srathongvian said playing Sweden and scoring was a highlight. Srathongvian added,
"It meant so much. It meant that all of our preparation paid off. We had a lot of chances today. This one goal made us laugh, made us smile and makes us happy."
GOAL FOR THAILAND!!

Kanjanaporn Sung-Ngoen scores the first goal for #THA at this #FIFAWWC!#SWETHA 4-1 🇸🇪🇹🇭 pic.twitter.com/VkY2Y0l5so

— FIFA Women's World Cup (@FIFAWWC) June 16, 2019
Thailand, who will face China in their last Group F match, has given up eighteen goals in its matches so far in the tournament, and that equals Argentina's 2007 record. Sweden's goaltender was pleased with the win, but her disappointment at not earning a shutout was evident. Commenting, Hedvig Lindahl Lindahl said,
"We are all human and having had that defeat they had against the U.S., and now scoring their goal, you can feel some empathy for them."
The fact that Sweden had scored four goals prior to Thailand's Sungngoen was on the receiving end of a high ball and connected to beat Lindahl was some comfort. Sweden scored its first goal six minutes into the match with a header by Linda Sembrant. Thailand's goaltender Waraporn Boonsing managed to swat away a shot by Anna Anvegard only to be unable to retain the ball and watch as Kosovare Asllani scored at the 19th minute mark.
2/2 for Sweden! #SWETHA | #FIFAWWC
🇸🇪🇹🇭 pic.twitter.com/vTsi3lazuZ

— FIFA Women's World Cup (@FIFAWWC) June 16, 2019
Boonsing also failed to prevent Fridolina Rolfö sending a curling shot that put Sweden ahead 3-0, all this by the halftime mark, and it was beginning to look like a repeat of the U.S. match. The positive sign was Thailand was able to hold off Sweden until the final nine minutes before Lina Hurtig's header beat Boonsing. At the end of the match, Thailand was at least able to exit the pitch with a feeling of having their pride restored. Commenting on the match, coach Srathongvian said,
"Our defeat in the last game was massive. We were disappointed, but scoring one today we made some success. We still need to develop and we need to improve and make it better. We need to get as close to other super teams. We need to play better so we can enjoy it more."
As the Women's World Cup enters the final 16 stage, betting opportunities will be front and centre with many opportunities to maximise results when placing bets with leading sportsbooks. One of those is Betway, an established and respected sportsbook, and for new punters, there is the opportunity at collecting up to $2000 in welcome bonuses, but only for a limited time, therefore registering today is ideal.