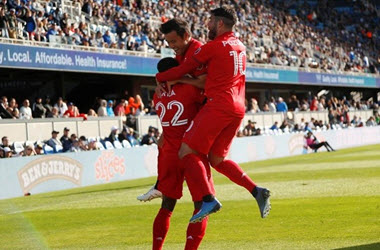 The Toronto F.C arrived in San Jose, California for their season opened and were looking at earning an opening game win until San Jose's Oswaldo Alanis was awarded a free kick and managed to tie the game after Toronto was ahead 2-0.
Oswaldo Alanis, who was playing his first ever MLS game, was handed a free kick at the 95th minute mark. It resulted in San Jose coming back from a two goal deficit and denying the TFC a season opener win and a 100th MLS victory for coach Greg Vanney.
San Jose signed Oswaldo Alanis during the off season this past January on a 1 year deal that saw Mexico's Chivas de Guadalajara agreeing to load the defender to San Jose. TFC's Alejandro Pozuelo scored the opening goal 40 minutes into the first half after being awarded a penalty kick and early into the second, took a 2-0 lead after Richie Laryea from Canada scored.
After Oswaldo Alanis took down Jozy Altidore in the first half, Toronto FC was given a penalty kick. That saw which Alejandro Pozuelo, one of TFC's best penalty kickers with seventh out of eight resulting in goals last season, stepped up to take the shot and earned his first of the season.
Toronto FC
Laryea, who hails from Toronto and is a hometown favourite managed to extend Toronto's lead at the 51st minute mark, but it was only minutes later that San Jose responded when Quentin Westberg got out of position, and Cristian Espinoza found an opening. San Jose had a second chance to score later in the half when Danny Hoesen took a big shot that missed its mark and went wide of the net after being deflected by TFC's Justin Morrow. After San Jose's Andy Rios also missed a scoring opportunity, the Earthquakes brought in Chris Wondolowski, much to the approval of the crowds in attendance. At 37, Wondolowski has played 398 games in the MLS and racked up 170 career goals.
Stepping into the captains role due to team captain Michael Bradley being out due to an injury, played almost 80 minutes before Patrick Mullins was sent as his replacement due to Altidore being handed a yellow card for unsporting behaviour. In late January, Bradley, who is expected to be out for the next four months, had surgery on his ankle. That means the captain will miss up to fourteen regular season games and after coming from its third appearance in the MLS finals in the last four years, the timing was not favourable.
TFC opened last season with a strong performance racking up four wins, one lose and one draw before they went into a bad run that resulted on the team winning one of the next seven games. In the 2018 season, the team only suffered two losses and in the post-season, had ten wins out of sixteen games. The Toronto FC will play their home opener on the 7th of March, and for soccer fans, this is a ripe opportunity to register with leading sportsbooks such as Sports Interaction, who to help fans get behind the team are offering a sign up bonus of up to $125 when they register and make their first deposit.