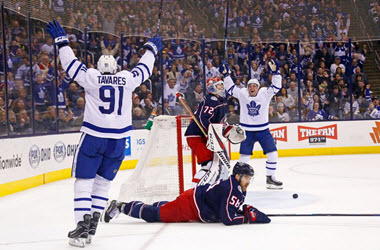 The five day break for the Toronto Maple Leafs paid off handsomely as they welcomed and defeated the Columbus Blue Jackets 4-2 last night in Toronto to earn their fifth straight win.
The Leafs looked like a well-rested and oiled machine last night. Mitch Marner scored one goal as did Frederik Gauthier and John Tavares scored two. Earning assists were Marner with two and Jake Gardiner, Nazem Kadri, Par Lindholm, Auston Matthews and Trevor Moore each with one.
Tavares s commented that sometimes after a few days off you can feel out of rhythm but felt they played well. He added,
"Sparky was solid and made some big saves when we needed him to, our penalty kill, I thought, was really sharp, so it was good to start the way we did and build on it and not give them a whole lot."
The Leafs set to play the New York Islanders, Tavares former team on Saturday, and going in against them on a winning streak is good news for the $77 million, seven year deal player. Tavares scored his tipped in his first goal less than three minutes into the first period after Kadri sent a shot on goal while the Leafs were on a power play.
Columbus tied the game at 15:14 after a rush on goal and quick wrist shot caught Garret Sparks off guard. Tavares earned his second of the night with just under 2 minutes remaining after a 3-on-2 rush with Tavares, Marner and Andreas Johnsson to put the Maple Leafs ahead 2-1. Punters wanting in on Maple Leaf action will find some generous signup promotions with Sports Interaction Register today and reap the benefits of betting online!
Sportsnet
Artemi Panarin scored Columbus second goal, and Sergei Bobrovsky stopped 25 shots on goal. Earning assists for Columbus was Seth Jones, Alexander Wennberg and Zach Werenski. The loss last night brought an end to the Blue Jackets five-game winning streak. Columbus coach John Tortorella did not feel they played bad stating,
"We had some zone time, generated some chances, their goalie played well. Give him some credit. But some of our chances, especially from our back end, were shot wide."
Toronto took advantage of early scoring opportunitiesagainst the Columbus Blue Jackets after a first period penalty saw Kadri's shot deflecting off Tavares skate and tipping it past Sergei Bobrovsky. While the first goal was a lucky break, the second was pure skill as Tavares sent a blistering shot past the outstretched glove of Bobrovsky.
Midway through the second while 4-on-4, Matthews and Marner went 2-on-1 into the Blue Jackets zone and a quick pass to Marner in front of the goal saw Marner snap off a wrist shot to score the Leafs third of the night.
The rest of the second went scoreless and appeared the third might as well until Frederik Gauthier made it 4-1 at 6:19. Columbus responded making it 4-2 with 1:29 remaining in the third but was unable to stop the onslaught from Toronto.