Tampa Bay Lightning Win Game 4 to Tie Series with Maple Leafs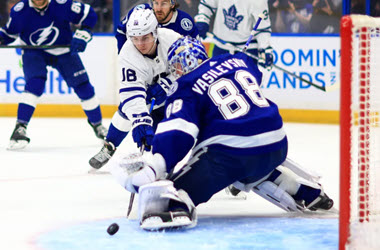 Down 2-1, the Tampa Bay Lightning defeated the Toronto Maple Leafs 7-3 after a blistering three-goal first period in Game 4 of the series on Sunday.
The Tampa Bay Lightning came out strong in the first period scoring in the opening minute, and all but steamrolled the Maple Leafs The goal by Steven Stamkos saw a barrage of action as Tampa's Pierre-Edouard Bellemare and Patrick Maroon added two more for a 3-0 lead.
Also scoring for Tamp was Ross Colton with 2, Ondrej Palat and Corey Perry both scored one goal, while Brandon Hagel, Nikita Kucherov, Callan Foote, Victor Hedman, Ryan McDonagh, Bryden Point, and Mikhail Sergachev earned assists and Andrei Vasilevskiy improved to 16-0 for his last three post-season record.
As for the embattled Toronto Maple Leafs, William Nylander scored two goals, Jake Muzzin scored 1, while Colin Blackwell, T.J. Brodie, Auston Matthews, Morgan Rielly and Jahn Tavares earned assists, and Jack Campbell recorded 16 saves before being replaced by Erik Kallgren.
The series between the Toronto Maple Leafs and Lightning now heads back to Toronto's Scotiabank Arena for Game 5 on Tuesday, while Game 6 will see the teams heading back to the Amalie Arena on Thursday and if needed, Game 7 is scheduled in Toronto on Saturday.
After a slow start to the series, the Leafs were looking to improve their top-line performance after it was all but sidelined by Alex Killorn, Brayden Point, and Anthony Cirelli in Game 3. Head coach Sheldon Keefe shuffled the lineup in a move that saw Alexander Kerfoot joining Mitch Marner and Auston Matthews at the start of the first period.
However, that saw Toronto's third line, who ended the regular season ahead of the Lightning in the Atlantic Division, at a disadvantage right from the start of the game, fueled in part by a wave of Tampa's top units.
The demise of the Leafs seemed evident right from the get-go after Steven Stamkos scored in the opening minute before they had even passed the centre line. The opening goal by Stamkos came after Toronto defenceman Justin Holl was unable to clear the zone, and it wasn't long before the Leafs were looking at a three-goal deficit.
The onslaught by Tampa continued with a fourth-line goal at 7:58 in the first after Jake Campbell made a solid pad save only to see Morgan Rielly miss the rebound allowing Patrick Maroon to pick up his own rebound.
It wasn't until late in the period before the Leafs put Andrei Vasilevskiy to work when Auston Matthews fired off a wicked backhand that deflected off the crossbar. However, any hope of Toronto scoring a comeback came to an end at the three-minute mark when Ross Colton scored a fourth for Tampa after a snapshot deflected off Campbell's glove and into the net.
Tampa followed up that goal with another fourth-line goal by Corey Perry while on a 2-man advantage after Tavares was sent to the box for hooking and David Kampf got nailed for a delay-of-game call. It wasn't long after that Campbell was pulled following a timeout at the bench with Keefe.
By the third period, Toronto got their first of three goals when playing with a one-man advantage. That resulted in William Nylander ending Andrei Vasilevskiy's hope for his seventh career playoff shutout – minutes later, Nylander scored his second of the night.
With just under six minutes remaining in regulation, the Leafs pulled Eric Kallgren In a desperate attempt to battle back from the deficit, but Ondrej Palat scored on an empty net to make it 6-2. The Leafs Jake Muzzin managed to score Toronto's third of the night, but shortly after, Tampa's Corey Perry added another empty netter to end the game at 7-3.