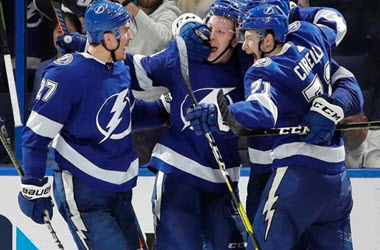 Tampa Bay continues to put the NHL on notice that they are there to win after defeating the Montreal Canadiens last night at the Amalie Arena in Tampa on Saturday night.
Montreal's Andrew Shaw was first to score at 10:16 of the first, and the Montreal Canadiens took little time to extend their 1-0 lead to 2-0 when 15 seconds later, Kenny Agostino tapped in a slap shot from Phillip Danault.
Adam Erne responded to give Tampa their first shortening the lead to 2-1 and scored his second late I the third making a strong case for more ice time with the Tampa Bay Lightning. Also scoring for Tampa last night, in a game that went back and forth and undecided until the final minute of the third, was Yanni Gourde, Nikita Kucherov and Tyler Johnson. Andrei Vasilevskiy has 33 saves for the night.
Tampa Bay extended their 13 game point streak to 14 games after Erne tied the game midway through the third period, which for sports punters, is good news, and those interested in hedging thier bets for Tampa to win the Stanley Cup will find excellent odds and favourable promotions at Sports Interaction, a top-tier sportsbook favoured by Canadians. Commenting on the play, Erne said,
"Late in the game we wanted to work the puck down low in their zone and make sure we didn't turn it over."
Sportsnet
Tampa had scratch Erne for the last 15 games, and his addition last night proved instrumental in the Lightning managing to come away with the win over the Canadiens. Erne said he is just trying to earn his spot but added,
"Each night it's an opportunity to prove to the coaches and the management staff that I can be in the lineup each night."
Kucherov, who scored one last night, increased his point streak to ten games. He is now only the 14th player in the history of the NHL to have ten or more multiple point streaks in back to back seasons and the first to do so since the 94-95 season.
Tampa Bay has won 12 of their last 13 games and sit in first with 30 wins and 7 losses in 39 games. Coincidently, that equals the Montreal Canadiens record set during the 76-77 season when they went on to set an NHL season points record of 132. It is also the fastest that the Lightning has reached the 30 win mark in a given season.
Scoring for Montreal was Jordie Benn, Andrew Shaw, Kenny Agostino and Brett Kulak. Danault, Benn, Tomas Tatar, Brendan Gallagher Jesperi Kotkaniemi, Arthur Lehkonen and Shea Weber earned assists.
The Canadiens, who defeated the Florida Panthers on Friday were hoping for a repeat of that success against Tampa, and it looked like they might just do that until late in the third. Commenting, Claude Julien, coach for the Canadiens said,
"There's a lot of good things. This is a team that was waiting for us. They're the best team in the league right now, and I thought with a little bit of luck we could have easily got out of here with one, maybe two points."
Montreal was again without Carey Price, who missed Friday night's game due to an injury to his lower body. Montreal now head to Dallas for the sixth game on an extended road trip, Tampa Bay now head on the road and will face off against Anaheim Ducks on New Year's Eve.