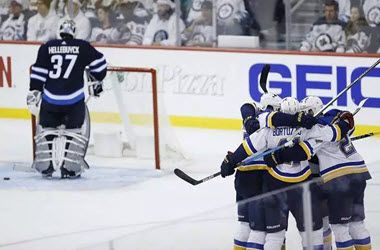 The St. Louis Blues and Winnipeg Jets met for Game 1 of the Western Conference playoffs on Wednesday night, and it came down to the final minutes of the third before one came out on top.
It was Tyler Bozak who scored the winning goal for the St. Louis Blues in the third period that led them to a game 1 victory over the Winnipeg Jets in the Western Conference. Also scoring for the Blues was David Peron with assists going to Alex Pietangelo and Patrick Maroon. Jordon Binnington stopped 24 shots.
Bozak scored the winning goal after connecting with a pass from Patrick Marron from behind the net, who then sent a fast shot past Connor Hellebuyck. Commenting on the chances for a win in game 1, Bozak said,
"I had a lot of chances tonight so I knew the puck was kind of following me around a bit. It's always fun when that happens so after the few I missed it was definitely nice to get one in there."
Winnipeg's Patrik Laine scored the Jets only goal late in the first period, and Connor Hellebuyck stopped 24 of 26 shots. The series will now head to Winnipeg for game 2, and for punters, this is a prime time to review the stats and prepare to place their bets with leading sportsbooks such as Bodog. For Hellebuyck, game 1 was a hard, fighting, grinding game and he added that,
"Everyone was fighting for every inch. They were looking for openings everywhere and they just happened to get (the last) one."
Sportsnet
It was both Hellebuyck and Binnington who had a big part in keeping it a tight game, even with Binnington falling to the ice after interference from Mark Scheifele in the first period, a move that saw him earning 2 minutes in the penalty box. Scheifele bumped into Binnington as he skated past while he was behind the net and trying to return to the crease. The move saw Brayden Schenn retaliating shoving Scheifele.
Patrik Laine's goal came at 13:38, his first in nineteen games. Laine stated that his level of confidence wasn't very high going into last night's game but was hoping to take every chance to shoot the puck hoping to score on the rookie goaltender. As 20, Laine stated he feels the Jets roster is superior to the Blues and when they have their game on, they are just a better team.
Dustin Byfuglien was responsible for diverting an early goal in the second after Vladimir Tarasenko fired off a shot that nearly trickled under Hellebuyck and into the net, but Byfuglien jumped in and shot the puck out of the crease. Winnipeg was successful in killing off two second period power plays and got their first in the final minutes of the second but failed to capitalise on it after both of Byfuglien's shots failed to find their mark.
Patrik Laine nearly out the Jets ahead 2-0 early into the third but connected with the post. This was followed by St. Louis's Perron who sent a shot through traffic and past Hellebuyck and with it, tying the game 1-1. After Bozak scored with three minutes left, Hellebuyck was sent to the bench in favour of the extra man, but Binnington denied all scoring attempts.