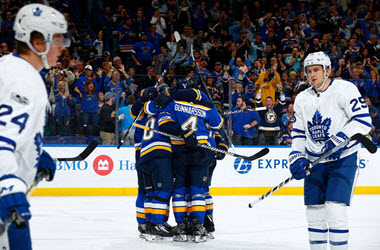 The St. Louis Blues have recovered from a season that saw them finding every possible way to lose to one that has them finding every possible way to win.
St. Louis welcomed the Toronto Maple Leafs last night in downtown St. Louis and came out on top of the Maple Leafs 3-2 in overtime to score their eleventh straight win on Tuesday night. It took St. Louis's Ryan O'Reilly only 34 seconds into overtime to score the winning goal helping set a new franchise record. O'Reilly said that it was fun hockey and that the St. Louis Blues are really enjoying it. O'Reilly added,
" You see from the start of the year how frustrating it was and how we kept working and working and not getting the result. Now, you see the way we've come together and everybody's invested in each other. Everyone's trying to make it easier for the next guy. Again, that wasn't a perfect game."
The winning goal came as O'Reilly executed a phenomenal play that divided the Leafs defense leading to O'Reilly going on a breakaway with Vladimir Tarasenko. O'Reilly stated that Marner was winding up and thought he had him beat adding,
" I kind of saw that he had me beat already so just went flying for just a desperate play, trying to get back. Saw Blues goalie Jordan Binnington went down and he was going to try and throw it in front, got my stick down and luckily it turned into a 2-on-1 for us."
Sportsnet
Colton Parayko and Jaden Schwartz also scored for St. Loius. Tyler Bozak earned two assists, and Jaden Schwartz and Alexander Steen both earned assists helping Blues goaltender Jordan Binnington earn his ninth win in a row and a franchise record for rookie goalies.
Zack Hyman and Auston Matthews and Zack Hymen scored for Toronto with assists awarded to Kasperi Kapanen and Nikita Zaitsev. Frederik Andersen stopped 38 shots as Toronto ended a six-game road trip. Maple Leafs coach Mike Babcock commented that he would have liked to see the Leafs crawl back and win adding,
"I thought we did a lot of good things today in the latter half of the game to set us up for success and I was impressed with a lot of our play."
Jaden Schwartz put the Blues up in the first period at the midway point after picking up the puck from a play started earlier by Alexander Steen and Tyler Bozak that resulted in the Leafs turning over the puck. With two minutes remaining in the first, the Blues went on the power play, and Colton Parayko scored in what was challenged, but a review confirmed the puck, which hit the bar did go in.
The night was not favourable for Toronto after Nazem Kadri exited the game after a vicious hit by from Vince Dunn. The loss of Kadri and how long he will remain out with a concussion will impact how sportsbooks such as Sports Interaction favour Toronto as they welcome the Washington Capitals on Thursday night for the first of four home games.