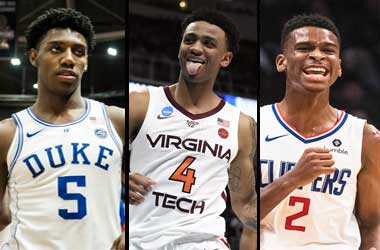 Nobody does hockey like Canada, and even most Americans will probably agree with that sentiment. For years and years now it has felt increasingly like the Great White North's grasp on hockey will never be broken, and will never be matched. That is their sport, and it always has been. Alas, change can be a good thing sometimes, and as reported by Forbes and NBA.com, that change is upon us.
We already saw the Toronto Raptors make history by claiming their first NBA Championship, which in itself was a pretty outstanding thing to see. Of course, that seems to only be the beginning, because Canada is on the rise in more ways than one within the NBA landscape – and we aren't talking about the possibility of more franchises here (although that would be pretty cool).
Making a real difference
As the aforementioned reports confirm, Canada is officially in the record books where the NBA Draft is concerned as they broke the record for most non-US selections in one draft with six. They beat out France who held the record with five, and if that isn't an indication of the direction that the sport is heading in, nothing is.
"It feels great," Barrett said after being chosen by the hometown Knicks. "Canadian basketball is really on the rise. You see we have — like you said, probably six, maybe more, in the draft this year. We have probably four of us going in the first round. So it's just amazing. Canada basketball is on the rise. We're going to have to cut some NBA players from the team this summer. But it's great."
Canada is here to stay
"Today is a momentous day for all our Canadian players drafted into the NBA," Rowan Barrett, RJ's father said.  "With a record number of Canadians selected in the 2019 NBA Draft, this exemplifies our players reaching for the highest levels in the sport.  This growth has not happened overnight and is result of many years of planning, programming and winning.  In addition, recognition needs to be shown to all the coaches within the provincial/territorial sport organizations, clubs and national team programs for providing these athletes with an opportunity to develop their talent and skills for this moment.  As we look at these athletes and those coming behind them, it is exciting to know that our Olympic teams will be well positioned to compete over the next three cycles."
This is a movement and there is quite literally nothing that can be done to stop it or slow it down. It really does feel like a matter of time before all four sports have a series of featured stars from the great nation of Canada, and that's the way it should be. The quality has always been there, but the light is finally being pointed in the direction of these young men and women. Honestly, it's great to see, and we're fascinated to witness how this surge continues to develop and grow as the years go on.