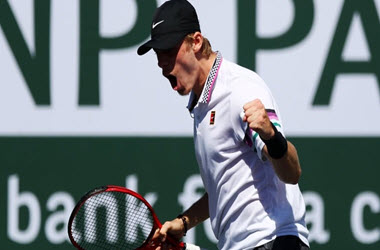 The PGA Tour is in full swing after arriving for the BNP Paribas Open in Indian Wells, California, and for Canadian tennis star Denis Shapovalov and rising star Bianca Andreescu, the week has been good with both advancing to the next round.
The BNP Paribas Open has been a dream run for Mississauga's Bianca Andreescu, who entered the tournament as a wild card. Bianca Andreescu upset China's Qiang Wang in the quarterfinals 7-5, 6-2 to advance to the quarterfinals. Andreescu, who is seeded 60th but slated to advance to 50th after her win against Wang, will play 20th seeded Garbine Muguruza in the quarterfinals on Wednesday. Commenting on Muguruza, Andreescu said,
"I have watched her play many times on TV, so it's just crazy to think that I'll be competing against her."
The success of Canadians at the tournament continues after Richmond Hill's Denis Shapovalov pulled off a two set victory over Croatia's Marin Cilic. The win advances Dennis Shapovalov into the final sixteen. Shapovalov next will play against Poland's Hubert Hurkacz later this week.
Tennis TV
After his victory against Cilic, Shapovalov sang a rap for the crowd. Commenting on that, Shapovalov said,
"It wasn't easy after the match to find my thoughts, find the lyrics. … I wrote down a couple of things, took me two, three minutes. Didn't actually look at it until after the match today. That was fun. That was cool. It's something I have been doing as a hobby. It's just a fun little part of me."
For her part, Andreescu enjoyed the moment and fun that Shapovalov was having after his win adding that she was a fan of the performance. Andreescu added,
"I actually just watched it before I got in here. It really put a smile on my face. That's for sure."
Felix Auger-Aliassime, another from Canada, was eliminated on Monday after a tiebreaking third set that ended in drama against Japan's Yoshihito Nishioka. While he suffered defeat, Auger-Aliassime had a major victory when he defeated Stefanos Tsitsipas. Indian Wells has always been good to Canadian players in the past, and there is little doubt Canadians have had positive results.
The number of Canadian tennis stars is increasing. Andreescu gave up an early lead in the first set and that created frustration on her part and saw her damaging her racket as a result. The young Canadian managed to bounce back and take the first set and second to win the match. Commenting on, what she considered a crucial match, Andreescu said,
"I think that was a really crucial game. I didn't think I served well at the beginning of the game. I think I relaxed a bit too much, but then I'm like 'Screw this' (and) I just went for it and ran like crazy."
Thornhill's Milos Raonic also advanced to the final 16 and will face Jan-Lennard Struff of Germany on for Wednesday. Roamic last faced off against Struff in Dubai last year, a match he lost. Tennis punters interested in getting on quarterfinal betting action will find a range of highly recommended sportsbook such as Sports Interaction. Newly registers members will enjoy generous signup bonus when making their first deposit, plus gain access to regular weekly sports betting promotions.