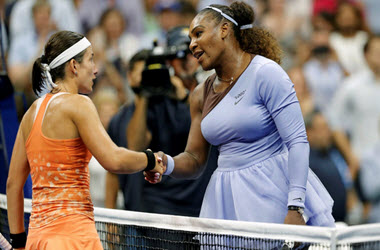 Serena Williams may have lost the two opening games in the first set on Thursday night in her semifinal match against Naomi Osaka, but it didn't take long for the seasoned pro to find her grove as she battled back to win the first set 6-3.
Anastasija Sevastova seeded 19th, was unable to put up a fight against Serena Williams and watched in despair as Williams went on to win the second set 6-0 and bring an end to Sevastova's dreams of making the final, her ninth to date.
Williams may have struggled upon her return to competitive tennis after the birth of her daughter, but what is clear, she is back and well on her way to dominating women's tennis once again. Commenting on her progress, Williams said,
"I've been working hard on my volleys. I have won a few doubles championships, so I know how to volley."
If she is successful on Saturday and wins the finals, it will be her seventh U.S. Open championship and her twenty-fourth major event. This will equal that of Margaret Court as the most won in the history of women's tennis.
Saturday will see Williams facing Naomi Osaka, who is the first Japanese women to play a Grand Slam final. She earned her place in the final after defeating Madison Keys in back-to-back sets on Thursday. Saturday will see Williams facing Naomi Osaka, who is the first Japanese women to play a Grand Slam final. She earned her place in the final after defeating Madison Keys in back-to-back sets on Thursday.
After her win, Osaka was asked how she held off the thirteen break points that Keys presented, responding, Osaka laughed saying,
"This is going to sound really bad, but I was just thinking, 'I really want to play Serena."', when asked why, her response was simply, "Because she's Serena!, Like, what do you mean?"
U.S. Open
The last two trips to the semifinals for Williams ended in defeat. The first of those was against Roberta Vinci in 2015 before the birth of her daughter, and the second was in 2016 against Karolina Pliskova. Williams missed the U.S. Open last year as she was dealing with blood clots as a result of giving birth. However, she returned to the tour in February and did not take long to make her presence felt taking the runner-up position at Wimbledon.
Saturday will be her chance to climb to the top once again and bring home a championship title. If she does, she will become the oldest women in history to achieve that. Commenting, Williams stated,
"It's honestly really incredible. A year ago, I was fighting for, literally, my life at the hospital after I had the baby, So every day I step out on this court, I am so grateful that I have an opportunity to play this sport, you know? So no matter what happens in any match — semis, finals — I just feel like I've already won."
This was Sevastova's first major event semifinal, and at the age of 28, she stepped up to the plate and won back-to-back games in the first set, not an easy achievement against Williams. Unfortunately, for Sevastova, that was the beginning of the end as Williams came on strong and dominated the rest of the first winning 6-3, then went onto win all six games of the second set.
What was clear was the crowds were there to see Serena Williams. The crowds roared as they treated to Williams's powerful serves and volleys and with every point won, the crowds got louder. She won almost every point and almost made wonder how Sevastova made it to the semis.
Commenting on Williams and the match, Sevastova, who retired from the sport in 2013 only to return in 2015, said,
"She got a little bit lucky, I think, on some breaks in the first set. Then she started feeling better. When she's in front, it's tough to play." She stayed focused in the second set."
While changing her angles and speeds helped Sevastova defeat American Sloane Stephens, it seemed to do little against Williams. Serena combated that by apply pressure on Sevastova and did so by rushing the net often winning twenty-four points of the twenty-times in that position.
Osaka will have her hands full facing Williams, and being the youngest women to make the U.S. Open finals, should she win, will be off to a strong start in her tennis career. It is expected that she Williams, with her extensive experience, will come away the winner. For tennis bettors ready to place bets, this is the best option, and with odds in favour of Williams with top-rated Canadian tennis betting sites like Bodog, it and the men's finals are a good opportunity to get in on the action.