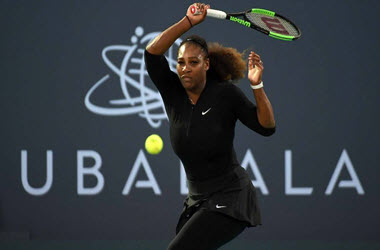 The return of Serena Williams to Grand Slam tennis action after giving birth is proving to be harder than anticipated after organizers of the French Open refused Williams seeding due to her not being ranked by the WTA.
Tournament officials have publicly stated that only those players who have WTA ranking will be awarded seeded. For Williams, has yet to play a major since returning after the birth of her daughter. Based on this, the French Tennis Federation stated,
"This year again, tournament officials will establish the list and ranking of the women's seeds based on the WTA ranking. Consequently, the seeds will reflect this week's world ranking."
Williams, in her career, has won the French Open three times and is being allowed to play the tournament based on a "Special" or "protected" rule towards ranking, however, it is up to the organizers as to whether a specific player is given seeding.
When the star player left tennis to focus on her pregnancy, she was seeded #1 by the WTA, however after returning, that had dropped to 453, and the result could see Williams having to face top-ranked players in the opening rounds of the tournament.
The World Tennis Association is looking into making changes to its rules to include "Protected seeding" for those players that had high ranking before a leave of absence such as that taken by Williams, it will not go into effect, if approved, until next year.
Many of the world's best, including Maria Sharapova, believe Serena deserves better treatment stating,
"I would like to see that rule change," Maria Sharapova said at the Italian Open last week.
Sharapova commented that the efforts for women to return after giving birth is emotional and physical and adds an entirely new reality when it comes to travelling, She added that,
"Tennis is such a selfish sport but I think when there's a child in your life you lose a little bit of that, because there's something that's so much more important," added Sharapova, who has lost three Grand Slam finals to Williams. "So, yeah, I definitely think that would be a nice change."
Another top-ranked player, Simona Halep also shares in Sharapova's feelings that she feels that childbirth is completely normal and should be protected when it comes to ranking, adding,
"It's more than tennis, so the people will decide what seed she will get. But in my opinion, it's good to protect the ranking when someone is giving birth."
After being away from the tennis tour for 14 months, Williams returned in March when she played at the Miami Open and Indian Wells. In both, she managed to achieve two wins and two losses, but that did little for her world rank. The star player also faced doping testing twice this week, and every week as stated on her Twitter account.
And…… just like that anti doping is here ….again… second time this week. proud to participate to keep the sport clean. Even if they do test me at my current ranking of 454 in the world. Two times every week #BeingSerena

— Serena Williams (@serenawilliams) May 21, 2018
For Williams, the difficulties of the birth, which resulted in a pulmonary embolism saw the star struggling to breathe after giving birth. While she returned and began training so as to prepare for her return, the rules do not allow for seeding for those who took a leave to give birth to a child.
This is treated in the same manner to which those who have been off for an extended time to recover from an injury. It gives players a window of two years to utilise the special ranking option.
Commenting on this, the WTP stated,
"Historically, WTA players have not been supportive of the use of special rankings for seeding purposes. The rule is currently under further review as part of our 2019 rules process. We remain committed to evolving with the needs of our players and are very supportive of those players returning from maternity leave to the tour."
Another of the sport's elite, winner of the Italian Open and ranked 4th in the world, Elina Svitolina, is also supportive of seeing Williams getting seeding stating,
"If you're like finished or you stopped because you're going to have a child and you will be in top eight, I think you should have this kind of thing, to have protected seeding. She was No. 1 so she deserves seeding."
Those who know Williams well know that this will not deter the star player and winner of the French Open three times over, but will only make her more determined to return to her previous position and win tournaments.