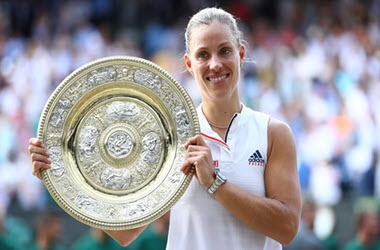 Angelique Kerber tapped into past experiences and did not allow what was up for grabs overwhelm her. She understood the opponent she faced in Serena Williams, and she knew exactly what to do to win. Kerber played with accuracy, patience and perseverance. The result never gave Williams the opportunity to control the match. Instead, it was Kerber who was in control winning in straight sets 6-3, 6-3 to earn her first Wimbledon championship.
Kerber, who is the first from Germany since Steffi Graf to win at Wimbledon, commenting on her win said,
"I think it's the experience. You have to go through all the things — the good things, the bad things — and then you need to learn."
She added that she knew Serena and understood that she had to play her best tennis. In 2016, after winning the U.S and Australian Open, she lost to Williams at Wimbledon and knew the important moments were must wins.
Serena had nineteen errors, Angelique Kerber only had five, and while that was impressive, what was more so was that she broke Williams in four of nine service games, and in doing so, managed to put an end to Williams hopes of earning her 24th Grand Slam Tournament win, and her eighth Wimbledon title. Had Williams succeeded, she would have tied the record of Margaret Court.
ESPN
Considering Serena Williams rocky start after returning from giving birth just over ten months ago, and Wimbledon being her fourth tournament since her return, her results were impressive, especially after dealing with blood clots shortly after the birth of her daughter.
Commenting on her performance, Williams said,
"To all the moms out there, I was playing for you today — and I tried."
After the match during on-court interviews, Kerber told Williams that "You're such an inspiration for everybody, for all of us. I'm sure you will have your next Grand Slam title soon. I'm really, really sure." Yesterday's final was two hours late getting started due to the semi-final between Rafael Nadal and Novak Djokovic going five sets. That match was put on hold the previous night and completed the following morning.
Serena chose to play tight winning the first two points in the opening match only to make small errors that saw her lose the match. It was that lack of concentration that was Williams losing eight out of nine points. Most of the errors were her own fault, and when playing at that level, against a player like Kerber, it is a recipe for failure, and that is exactly where Williams found herself at the end of the second set.
Kerber controlled her game on the baseline and was quick to anticipate Williams's moves. She played more aggressive than usual, even kneeling on the grass to hit a return volley – it was what was needed, but maybe she sensed the uneasiness in Williams and chose to capitalise on it.
Angelique's coach, Wim Fissette feels the world has yet to see the best of Kerber, stating,
"The defence is one of her qualities, but she also knows now that she's not going to win a Grand Slam with just defence, and that's, for me, very important."
After winning the point in the final match of the second set, Kerber fell to the grass covering her face in emotion at winning the most prestige title in tennis. After getting up, she congratulated Serena and went to the stands to share her success with her coach and family.
The WTA will now travel to Bucharest for the BRD Bucharest Open, and for those wanting to follow Kerber and Williams, it is a perfect opportunity to get their bets in early. If you are a tennis bettor, who not consider our Canadian recommended tennis sports betting sites, 888sport. With up to $250 in bonuses for new punters, and multiple sport betting opportunities, it checks all the right boxes for those who love sports.