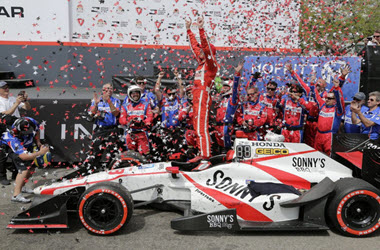 Sebastien Bourdais was overcome with emotion at winning his second victory in St Petersburg, his hometown. For Bourdais, the win had meaning as he faces on-going recovery after his Indianapolis Motor Speedway crash earlier this year.
Bourdais was lucky to take the checkered flag. It was after Robert Wickens had a run in with Alexander Rossi during a restart that saw the leader knocked out of the race, one that he dominated almost from the start.
Bourdais even felt for Wickens saying,
"I'm heartbroken for him"
Wickens, who hails from Toronto, Canada previously raced in the touring car series in Germany but chose to make the switch to Indy Car after speaking with James Hinchcliffe. As a rookie in Indy car, he has already proven his skills on the track.
As part of Schmidt Peterson Motorsports, an all Canadian team, both Wickens and Hinchcliffe had strong weekend performances. Wickens made history as only the third driver in Indy car to take pole position in his first Indy car race. Nigel Mansell was the last to accomplish this in 1993, and it was none other than Bourdais who took pole in his first race in 2003.
For Wickens, the late yellow flags saw Rossi having a chance to take away his chances of getting a win in his debut race. With only two laps left to go, the yellow flag came out, and on the restart, Rossi attempted to pass Wickens on the inside of turn one making contact and taking both racers out of the race.
Racer Channel
That put Bourdais, who was sitting in third the front position and his 37th victory in Indy car. The celebrated driver is only two wins short of beating Al Unser spot on the all-time winner list. For Dale Coyne Racing, it was their 6th victory, the first of those was at St Petersburg last year.
For Rossi, he did not face any penalties and finished the race in third, commenting he said,
"The run was perfect for me, made the pop, he defended the position, in doing so, he put me in the marbles pretty late in the corner."
Rossi has said he hasn't spoken with Wickens as of yet but believes he is upset. Rossi, however, believes he didn't make a mistake and was totally justified trying to take the lead on the restart.
As the Indy Car season heats up, it is a safe bet to suggest more scuffs will take place that will cause heartbreak in a field that is both skilled and competitive. Whether Bourdais sees more victories this year and passes Unser in the history books is yet to be seen, but Indy car betting sites undoubtedly will be keeping a close watch as the season progresses.