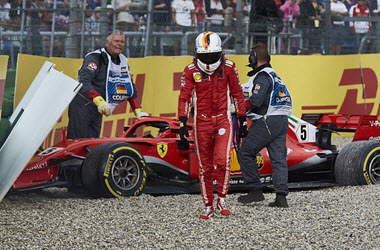 Sebastian Vettel has not had the season he had hoped, and as the Formula One driver gets ready for the German Grand Prix in Hockenheim, Germany, it is a stark reminder that his hope to win the driver's championship is dwindling.
What he is hoping for is not to see a repeat of last season's German Grand Prix. Vettel was leading the race by a comfortable margin until he lost control and hit the barrios and watched as Lewis Hamilton passed by to win the race. While track conditions were wet due to the hard falling rain, the mistake made by Vettel was one a four-time world champion should not have made, especially when not under pressure. Commenting on the errors that cost him the race, Vettel said,
"I won't forget that race, that moment. That was a mistake and it was costly. Very costly."
That mistake cost Sebastian Vettel more than just the race but was a pivotal moment in for Hamilton and Vettel. Hamilton took control of the race, and for Vettel, it was just another long list of errors that have many questioning if his time in F1 has hit a stalemate. His recent behaviour has been unravelling, and for a driver with 53 wins, 11 podium appearances and 230 races over 12 years, it is unnerving for Ferrari, who had high expectations for the German driver.
Autosport
After misjudging during an overtaking move during the British Grand Prix and ploughing into Max Verstappen, having an error free weekend heading into the German Grand Prix is certainly on Vettel's mind. Verstappen, who won the Austria Grand Prix accepted his apology, but it was yet another confusing mistake by the seasoned driver.
For Ferrari, who have not has one of their drivers win a drivers' championship since 2007, the mistakes not seem to be common. Vettel panicked during the Canadian Grand Prix when he saw Hamilton in his rear mirror causing him to swerve off and onto the track. That resulted in the German being hit with a penalty for impeding Hamilton and that ultimately cost him the race.
Vettel has not won a race in almost a year since winning at the Belgian Grand Prix last August and has stated that he places a lot of pressure on himself and it never happy when things go wrong. Commenting, Vettel added,
"For me, it's the most straightforward way to deal with things myself. Because I know what I've done wrong, what I've done right. You are always your best judge."
The pressure is mounting for Vettel, who has a year remaining under his current contract, to start winning races for Ferrari. Many are questioning whether Charles Leclerc should be given the no.1 drivers spot and Vettel dropped down to their number two after LeClerc, who is driving in his second F1 season almost won in Austria and Bahrain. He has shown better composure and speed on the track, and even though Vettel is the senior driver, he is only three points ahead in the standings over LeClerc.
Also helping that argument is the five podium finishes and three poles Leclerc has had this season, In comparison, Vettel has yet to have a podium finish in his last three races, and only four podium finishes in the last ten races. The continued troubles for Vettel is good news for Mercedes and Lewis Hamilton. However, for Hamilton, his biggest worry is teammate Valtteri Bottas who had a great start to the season and is sitting second in the driver's championship standings. Hamilton is hoping to earn his sixth world title this year which, if successful, would see him one away from matching Michael Schumacher's record.
At 34, Hamilton has won five of the last six races. He has 80 wins to his record and is only 11 off Schumacher record of 91 wins, and as the season continues, it seems Ferrari is unable to stop him. The team is doing all they can to make changes in hopes of achieving their goals said Sebastian Vettel, who commented,
"We are trying a lot of things to make it better. The motivation is high to get the job done with Ferrari. Mercedes does have an edge over everybody else. In terms of raw speed, they're the benchmark … I want to win but also I'm realistic, coming here I don't feel we're the favourites."