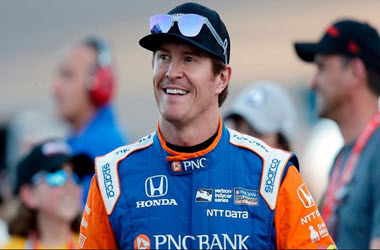 The IndyCar series is heating up for Scott Dixon, and sitting atop the drivers' leaderboard, the New Zealand driver and 2008 Indy 500 winner is set to make his 300th start. Dixon took a short break after winning the Toronto Indy, choosing to head to the Bahamas to celebrate his birthday with his wife and children.
Dixon has earned four championships driving for Chip Ganassi Racing, and being the team's longest standing driver; he is looking for win number 5 this year. The win in Toronto put Dixon 47 points ahead of Alexander Rossi and 60 points ahead of last year's series winner and third place driver, Josef Newgarden. Dixon commented on the lead stating,
"It's nice because it's a change of speed, right. It's great to sort of break away and have that change of pace, change your mindset and recharge your batteries and get back at it and start racing for the final five races."
After his break, he will be back in top form as he prepares for the Mid-Ohio race. This is a track he has seen success at having won in 2009, 2009, 2011, 2012 and 2014. Dixon has had eleven top 10 finishes, and Sunday's race will be his 300th start in IndyCar – a milestone not many can claim.
"I was told a couple of weeks ago Mid-Ohio would be my 300. It's fitting. It's one of my favourite tracks. It's got elevation change, it's got fast corners, it's got technical corners, it's got big braking spots but especially when you get to qualifying the grip level is really high so really have to manhandle and hustle the tires around. It suits my style. I've always enjoyed it."
IndyCar
Last season Dixon struggled at Mid-Ohio finishing in ninth place. He began the race leading the series, but after the checkered flag dropped, it was rival Josef Newgarden who took the win, and that saw Dixon fall to third place in the standings.
For Dixon, the results were a disaster, but he managed to continue to score points and finish the season third overall. Simon Pagenaud finished second, and Newgarden won the series. However, sitting at the top of the drivers' standings once again, has IndyCar sports betting sites placing favourable odds on Dixon to win this year's series, and with only five races to go, punters looking to place bets on the series winner are running out of time. One of our featured IndyCar bookmakers is Betway Sports, and with new bettors being given up to $200 in welcome bonuses, now is the right time to register and place your bets on this years IndyCar series.
"The strategy was off a little bit," Dixon said of the 2017 race. "We had a top three or four car then we had two really bad pit stops. One was about 12 seconds longer than it should have been."
While last year's race didn't go as planned for Dixon, the New Zealander has had more success than failure in his 17 year run with Chip Ganassi Racing. He has chalked up four series wins, the first coming in 2003, then 2008, 2013 and 2015. In 2008, he took the coveted checkered flag at the Indy 500 and has earned 44 career wins. That puts Dixon in a small group of drivers the likes of Mario Andretti and A.J. Foyt.
Speaking on how he feels about the milestone, Dixon said,
"I feel really fortunate and blessed and loved to do what I do and probably didn't think I'd ever get to 300 races. I'd like to keep building on that number. For us it's keeping our heads down and focusing on the next one for the last five races and keeping that mindset."
Rival Driver, Will Power knows Dixon's track record at Mid-Ohio and knows luck will be needed if they hope to stop the driver from earning his 5th series championship. Commenting, Power said,
"He's had a great run this year. He's been very consistent, but if he has a little bit of a bad run here and we have a great run, it's absolutely possible to catch him and win the championship.
The next five races will determine if he wins this year's series. If he does, he will be sitting only behind A.J Foyt as the most successful driver in IndyCar.