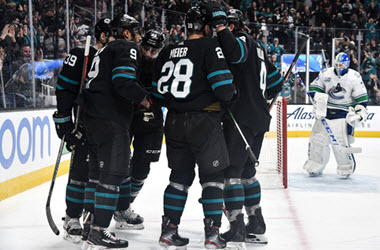 The San Jose Sharks brought an end to their six game losing streak on Saturday night after some excellent goaltending by Aaron Dell defeating the Vancouver Canucks 4-2 at the SAP Center in San Jose, California.
Logan Couture, Evander Kane, Timo Meier and Tomas Hertl each scored for San Jose, while Couture, Kane, Barclay Goodrow, Erik Karlsson, Joe Thornton and Marc-Édouard Vlasic each earned an assist. Scoring for Vancouver was Bo Horvat and Jake Virtanen while assists went to Brock Boeser, Adam Gaudette, Quinn Hughes and Christopher Tanev earned assists.
Bob Boughner, Interim coach for the San Jose Sharks, spoke after the game about earlier in the week having a goaltender open competition after taking over the role. That led to Aaron Dell earning another start that for Boughner, paid off handsomely.
Dell manages to pull off thirty-three saves over the course of the night including several that were instrumental in keeping the Vancouver Canucks at bay and helped the Sharks end a six game losing streak. That is good news for San Jose fans hoping to place bets on future games with leading sportsbooks such as 888Sport, one that is offering generous sign up bonuses for new players. Commenting, Boughner said,
"He was our best player. He made some key saves at key times and really kept us in it when we were starting to take on water. That's what a goalie does in a win like that."
Sportsnet
Boughner added that he would start Dell on Tuesday while Evgeni Nabokov, who is the Sharks goaltender coach, will continue to work with Martin Jones, San Jose's usual starter. That will be the first time of the season that Dell will have had back-to-back starts as the Sharks look to regain momentum. Speaking on the game and their performance, Dell stated,
"I think our compete level was a little big higher. I think we really wanted to dig ourselves out of this hole and this was the first step. I think we played a little safer of a game tonight than we have in the past, and I think that showed a lot."
San Jose were able to protect their lead in the third period after Dell pulled off several big saves after its defense failed to keep the Canucks out of their zone. That saw Brock Boeser, Tanner Pearson and J.T. Miller being robbed from earning goals.
Dell was played a part in helping Erik Karlsson get a pass to Timo Meier who was able to earn his eleventh goal of the year with a bit of help from Evander Kane. Speaking on the defense breakdown, Marc-Edouard Vlasic said,
"You want to feel good about your game. Now, some guys are feeling better, we're feeling better as a team. It's just one game so we've got to string some together."
Vancouver's Jake Virtanen was able to score shortly after when picking up on a pass from Adam Gaudette however Dell managed to keep the charging Canucks until San Jose regained a two goal advantage. Bo Horvat, the captain of the Vancouver Canucks, commented on the night stated,
"It's never easy chasing the game the entire night. We have to find a way top come out better. It's execution. Once we started passing and making plays for each other we played well."
Last night's game was the second in a row that Thomas Hertl scored the opening goal for San Jose. Boughner put together a solid forechecking line, and that resulted in Joe Thornton passing the puck in front of the crease to Hertl and slipping the puck past Jacob Markstrom.
The Sharks were able to build from the momentum of an early goal to earn the win, but that was resultant on San Jose keeping constant pressure on Vancouver, strong penalty killing and solid goaltending also played an integral part. Travis Green, coach of the Vancouver Canucks, spoke post-game to the media stating,
"The whole group didn't think we had a good first period but it was obvious we dominated the last two periods. When you play that way and don't win, you're not going to be happy by any means."
The San Jose Sharks next will welcome the Arizona Coyotes on Tuesday then go on a three day break before the welcome the St. Louis Blues on Saturday. Vancouver will welcome the Montreal Canadiens on Tuesday, the Vegas Knights on Thursday and the Pittsburgh Penguins on Saturday.