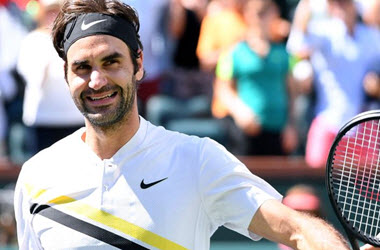 Roger Federer was fighting to make it to the finals at Indian Wells. The world's top ranked player was down set games in the first set won the second but was struggling in the third. It looked like Borna Coric might take the third set and head to the finals, but clearly, Federer was not down for the count.
Federer fought hard to rally back and win the third set 6-4 and was able to wrap up the victory as a result to win the match and move onto the finals at Indian Wells. Federer stated that he felt he should have lost today's match, but luck was on his side. Today's semi-final win gives him the chance to win his 6th title.
Coric, speaking about the loss stated,
"I went for my shots. I was not waiting. I made the right choices all the time. He was just a better player in those specific moments. At the end, he just got through."
Federer will now meet Juan Martin del Potro in Sunday's final. Martin is 6th in the word and succeeded in beating Canada's Raonic in just over an hour of semi-final play. It was his 400th career win and tenth consecutive victory.
Federer pulled out all the stops in the last four games to win the last four matches. When faced against Juan Martin del Potro, he is 18-6 with the last two matches being during quarterfinal and final action at the U.S Open.
Said Federer,
"It didn't come easy, so I had to go get it. You need to be match-tough, you need to be confident, have experience, and I think I have a bit of all of that right now, and that's the reason I won."
The third set saw five breaks with Federer training four to three, but he came back with two deuces and won the final three matches in what was a 2 hour and twenty-minute battle. Coric had some issues with the lineman after a forehand was called when in match point play. The replay showed the ball was just outside of the line.
ATPWorldTour
"I was aggressive and I was pushing him to the limits, but at the end he was better player. I thought he was going to drop, but he didn't. He stayed in the match very, very long, and I just couldn't keep it up anymore."
This season has been Federer's best start since 2006 when he won sixteen matches onto what was one of his best years in tennis. Today's match was one of the earliest the Swiss player has played since 2006, and that showed with all the errors Federer made not even breaking Coric until well into the 2nd set.
Federer stated that he had just woken up a few hours before the match having only eaten at 9 am, it saw Federer sluggish and trailing behind.
Federer commented,
"Borna played a great match. He was very steady. I can see why he caused a lot of problems to a lot of players, and he's only going to improve from here."
For Coric, his performance in the semi-finals saw him jumping into the 36th seeded position in world rankings, while Federer is once again ranked number one. Tennis sportsbetting sites all will be favouring Federer to win tomorrow's final, whether he proves successful will be seen once the match is over, but suffice to say, Federer is on top of his game and ready for the challenge.