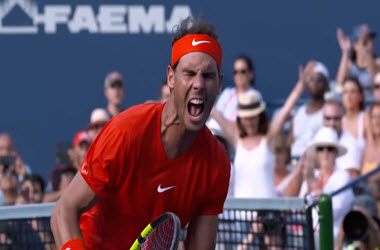 After Rafael Nadal beat Karen Khachanov in the semifinals 7-6, 6-4, it was a sign of what is to come going into the finals against Stefanos Tsitsipas. After all, was said and done, Nadal smiled as confetti rained down around him and he raised the Maple Leaf trophy in celebration of his victory and winning the final.
Today's win was Nadal's 80th on the ATP tour in his career. Ranked No.1 in the world, he proved too much to handle for StefanosTsitsipas who lost in two straight sets. The sell-out crowd at centre court were cheering for Nadal, and he delivered after just over an hour and 40 minutes of play.
While Rafael Nadal has faced many title matches in his career, even he was nervous as he began serving his last match knowing if he won, he would be crowned champ. As Nadal spoke with the media after the centre court celebrations, he took his seat beside the trophy and to the media said,
"I am a completely human person. I get nervous and I miss it, and that's it. After that, I accept the situation. Just fight back and try to stay positive. That's what I did. And in the tie-break, I played a little bit better again."
Nadal was up in the second tie-breaker in the second set, and after hammering a forehand-cross that Tsitsipas was helpless to respond to, he skipped across the court, fists closed and screamed with jubilation. The crowds roared their approval and gave him a standing ovation, one out of appreciation, one out of respect.
For Tsitsipas, who was celebrating his 20th birthday, it appeared early on that Nadal was in control. Tsitsipas stunned crowds when he beat Novak Djokovic in the third round earlier in the week and then succeeded in coming away with a win in the third round against Alexander Zverev to move to the quarterfinals. During the semifinals, Tsitsipas continued his successful run in three sets against Kevin Anderson to move onto the finals, a first for the Greek player.
Tennis TV
Nadal is a seasoned veteran, and Tsitsipas saw his serve broken twice in the first set. The final saw only a handful of extended volleys, and it appeared Tsitsipas was not much of a challenge for Nadal. The match was without drama, lacked the usual fist-pumping after winning the first set and emotions were kept to a minimum – instead, the focus was on winning – and in that regards, Nadal came prepared with his poker face intact.
Nadal sent passing shot after passing shot that Tsitsipas struggled to return. The first set was one of the most dominated seen by Nadal in the tournament, and it was one that was not missed by Tsitsipas
Tsitsipas, commenting on that, said.
"He never cracks, he will always grab you like a bulldog and always will have you — he will always make you suffer on the court. It is amazing what he has built as a player. I mean, he was like, you know, normal like all of us, and he managed to become this beast, this monster that he is today. It is true. It's not that I'm saying something that—that's how you feel when you play against him."
Tsitsipas managed to recover in the second set after Nadal took a 2-0 lead, and it was clear, he had no intention of going out without a fight. His efforts earned him $500,340, not a bad birthday present, and for Nadal, he earned a payday of $1,020,425. The ATP Tour now moves on to the Western & Southern Open in Cincinnati, Ohio on the 12th to the 19th, and for tennis punters interested in placing bets on the Open, why not consider one of our preferred and recommended tennis betting sites that offer favourable odds, in-play betting and more.