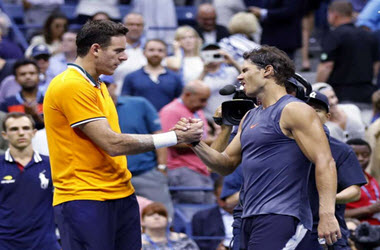 Rafael Nadal was struggling as heat and pain to his knee plagued him in his semifinal match again Juan Martin del Potro. For del Potro, it was not how he hoped to advance to the finals, but with Nadal's exit, that is exactly what happened.
Nadal chose to exit the semifinal after feeling movement in his knee that he described as "bad". Rafael Nadal has been dealing with knee issues on and off for years and is one that is familiar to the star player. One that he pays attention to versus risk further problems.
Nadal won last year's U.S. Open and was hoping to win back-to-back championships but knew early on that something was wrong. After two sets, Nadal chose to exit the match awarding del Potro a place in the men's finals on Sunday. This will be his first final since winning the U.S. Open in 2009.
After the match, Nadal said,
"That was not a tennis match at the end. Just one player playing, the other staying on one side of the court. I hate to retire, but staying one more set out there, playing like this, would be too much for me."
Sunday will see del Potro, who is seeded 3rd, facing 6th seeded Novak Djokovic, who earned his spot in the finals after eliminating Kei Nishikori in their semifinal. This will the eighth time Djokovic has made it to the finals at the U.S. Open, having won two of those, he is hoping Sunday will mark his third. Commenting on his win, Djokovic said,
"I don't know how it looked, but it felt really good. Great intensity, great focus, good game plan. Obviously easier said than done. You have to execute the shots."
U.S. Open
Del Potro was in control having won the first set 7-6 and dominated the second set 6-2. As the second set came to an end, Nadal shook his head and advised del Potro and officials he had to retire from the match. He became the first in 50 years to exit a semifinal or final at the U.S. Open.
Nadal is the no.1 seeded player in the world, and for del Potro, he said it was not the ideal way one wins a match adding that he felt sad for Rafael. Nadal has a well-documented history of knee tendinitis and has had to withdraw from tournaments in the past, each time claiming the issues related to tendinitis.
Those in attendance could sense something was off with Nadal after his trainer came over after the seventh game to apply tape just below the knee. After the next game, Nadal removed the tape, and then took a timeout for medical reasons after game three of the second set. At that point, his trainer massaged his right left and then applies more tape but it was clear was that nothing was helping.
Nadal could be seen walking with a slight limp on the court, and his movements were limited. After complaining to the umpire over a late call by the line judge, Nadal was overheard telling the umpire he would soon have to exit the match – shortly after, that was what he did.
The U.S. Open is an important one for most top tennis players and one they want to go the distance, but for del Potro, it was strange to get there under these circumstances. In 2009, at the age of 20, he surprised Nadal in the finals. Del Potro was one of the rising stars in tennis at that time but after several operations to his wrist impacted his tennis career for over two years. His return to tennis professionally has seen him advance to the No. 3 ranked player in the world.
As the men's final approaches on Sunday, the time to get in your bets on whether del Potro or Novak Djokovic will take the championship is quickly running out. One of our recommended tennis betting sites for Canadians is BetOnline, and with up to $2500 in sign-up bonuses available, and regular on-going promotions, it is one you do not wish to miss out on. Register today and capitalise on this opportunity while it remains available.