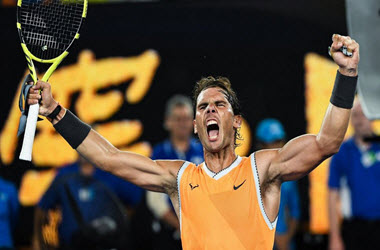 Rafael Nadal put the next generation of tennis players on notice that he is far from giving up the reins yesterday at the Australian Open and Stefanos Tsitsipas can add his name to the list of one of those that was pushed out of the way as Nadal aims to win another Grand Slam title.
It took Rafael Nadal only minutes to put Stefanos Tsitsipas, and everyone else, that he is there to win and that any hope of Tsitsipas repeating his upset over Federer was not going to happen. It was clear that the upcoming player from Greece was out of his league with Nadal not once facing break point throughout all three sets and repeatedly breaking service going 6-2, 6-4, 6-0 to advance to the finals.
After the third set, Tsitsipas stated that it felt like a different dimension of tennis adding,
"He gives you no rhythm. He plays just a different game style than the rest of the players. He has this, I don't know, talent that no other player has. I've never seen a player have this. He makes you play bad."
Yesterday's semifinal match was almost a repeat of Nadal's third round match against Alex de Minaur and similar to that of the quarterfinal against Frances Tiafoe. Both young and upcoming stars in tennis, they quickly learned Nadal is still a force to be reckoned with. Nadal, who was questioned whether he was trying to make a point with the way he quickly controlled and defeated Tiafoe and de Minaur, commented that,
"They don't need any message, no. They are good. They're improving every month. So it's always a big challenge to play against them."
ESPN
The comments seemed contradictory to how the match went. This is was first semifinal for Tsitsipas, whose run getting there included defeating Roger Federer in round four. However, when it came time to face Nadal, who is left handed, the job was substantially more difficult and ended in defeat.
Nadal, now 32 and No.2 in the world, will meet Novak Djokovic on Sundays in the finals. Nadal won the Australian Open title in 2009 and is hoping to add another to his trophy case, and if successful, it will be his eighteen career Grand Slam win.
If Nadal manages to win the final, he will be only the third man in tennis history to have won every major title two or more times, and doing so will see him join the likes of Rod Laver, a former tennis pro and current sport analyst and Roy Emerson.
The Spanish star has overcome a number of health issues in recent years and is again sitting at the top of his game. This comes after leaving the quarterfinals in Melbourne last year due to an issue with his leg and again bowed out of the U.S Open the same year due to problems with his knee.
That resulted in off-season surgery on the ankle, and while he wore a strap across his abdominal muscle which had given him past issues, but clearly it hasn't impacted his level of play. That wasn't lost on Tsitsipas, who stated,
"I'm really disappointed today and wanted prove myself a little bit more, not let him dominate the entire match. Just felt wrong."
Tennis punters will have the chance to place their support behind Nadal on Sunday as he faced Novak Djokovic and with tennis betting bookmakers showing Nadal at 6/.5 and Djokovic at 7/9. Register today and take advantage of new player bonuses.