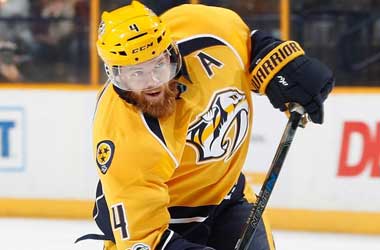 Nashville Predators surprised a lot of NHL fans last season when they made it to the Stanley Cup finals and took the fight to the defending champions, the Pittsburgh Penguins. They ended up losing to the Penguins in six games but the experience of making it to the finals and performing on the grand stage has done the Predators a whole world of good.
They will enter this season a lot more confident even though they have suffered a couple of setbacks. The Predators announced this week that defenseman Ryan Ellis will out be for close to 6 months due to a knee injury which he sustained during the Stanley Cup finals.
Nick Bonino who plays as a center also suffered an injury during the finals when he broke his foot.
David Poile who is the general manager for the Predators stated that Bonino has recovered and is back to skating. He is expected to make a full recovery and be ready in time for the new season. However Ellis has been advised to take at least 6 months to recover and will most likely join the Predators only in 2018.
SPORTSNET
In a statement, Poile said
In discussions with our doctors at this time, they would like to take it a little bit slower with his recovery. The initial prognosis on this type of a knee injury is 4-6 months, and right now we feel, and the doctor feels, it's going to take the full six months for him to recover
Ellis played through the injury during the finals and the Predators were aware that he would need surgery and be out for a considerable amount of time. They strengthened their defense after securing a deal with the Vegas Golden Knights on July 1 and signed Alexei Emelin. However there is no denying the fact that they will miss Ellis's experience and leadership since they will be without their captain Mike Fisher.
Fisher captained the Predators last season but announced on August 3 that he was retiring from the NHL. Ellis showed last season that he has the leadership skills and the respect of his teammates to take on the responsibility of being the new captain and coach Peter Laviolette did not rule out the possibility that he could be the new captain for the Predators once he is back in the team.