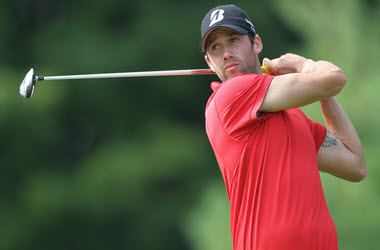 The PGA season opener taking place at the Silverado Resort and Spa North has the largest contingent Canadian golfers since the PGA began to maintain records in 1970.
A number of those that will take part in the opener are long-standing PGA tour veterans while others did not secure their spot until the last minute. There are eight Canadians in total that will join the field at Silverado and includes regulars such as Brantford, Ontario's David Hearn as well as B.C's Adam Hadwin and Nick Taylor. Joining the trip is Listowel, Ontario's Corey Conners, Dundas, Ontario's Mackenzie Hughes, B.C's Adam Svensson and Roger Sloan and Thornhill, Ontario's Ben Silverman.
The last few years have been breakout years for Ben Silverman, who joined a list of Canadian golfers who made names for themselves on the lower level tour. Commenting on those who made it, Silverman said,
"I think we were just pushing each other to get better. We were all very talented at the time but just not there yet, not at Tour level yet. Just knowing that there was only two or three Canadians to look at — yet we were all right there in the mini-tour ranks — it just probably pushed us all and motivated us all to make it."
Previous to this seasons high of eight, the highest number of Canadians that qualified for the season opener or a PGA event was seven. That took place in 1987 at both the BMW Championship and the John Deere Classic, both of which were non-domestic events. The same number, seven qualified for the 2008 U.S. Open and last year at the CareerBuilder Challenge and the Safeway Open that is held at Silverado.
Silverman was hoping to make the cut to rejoin the PGA Tour and needed to have a strong finish at the Web.com Tour Championship and was able to finish in the top 25. Thornhill's Roger Sloan finished tenth, and B.C's Adam Svensson finished 14th.
Bettinardi Golf
Last season, Silverman's best finish was seventh at October's Sanderson Farms Championship. He also had a top ten finish at the RSM Classic and made the cut for seventeen events last year to earn $793,14US and finished 136th overall in the FedExCup standings. Silverman stated that he was really happy with his rookie season and how he performed. He added that he played many courses he had never played before adding,
"I think I handled it pretty well. I had some good finishes. I learned a lot about myself in terms of how many tournaments I can handle. I think 28 regular-season events was kind of a lot for me. I'm going to learn from that and try to manage my schedule a little bit differently so I can get some more rest this season."
Silverman spoke of being inconstant at different times of the season as he was developing his game. He was successful with both low, medium and high trajectory shots while working towards improving his short game. Silverman added that he intends to keep things simple this season and focus on what got him in the tour in the first play. He added,
"The biggest adjustment with my game is I'm pretty much just sticking to one ball flight and never changing it. Whether it suits the hole from a traditional standpoint or not doesn't matter to me anymore. I'm just going to stick to hitting shots that I feel comfortable with. That was my gameplan in Jacksonville in the Web Finals, and I had great control of the ball all week. I'm just going to keep that strategy going moving forward."
Punters wanting to get in on the PGA action will find a wide range of sports betting that that are Canadian friendly offering good odds. Of course, with the number of Canadians in the field, the odds are improved for a strong Canadian showing. One recommended sportsbook for Canadian punters is Betway Sports, a sportsbook offering new players up to $200 in signup bonuses when they register and deposit today. Why wait, the PGA season has now started!