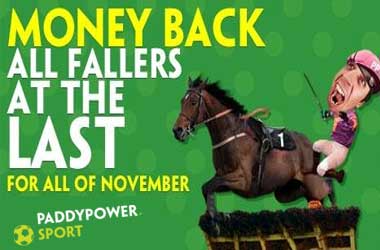 As we are now in November then it is of course the jump racing season, and whilst watching any horse race in which horses jump over fences or hurdles is always exciting one aspect of actually having a bet on such a horse race is that there is always the very real risk that your chosen horse may fall at any of the fences.
The one fence or hurdles that you will not want to see your chosen horse take a tumble at is of course the final fence or hurdle and more so if you horse is in a position where it could win the race!
Many punters have been left screaming when their horse is romping ahead of the field only to take a tumble at the last, and this is a fact that has not gone un-noticed by the betting team over at the Paddy Power betting site, and as such they have put together one of their most generous special consolation bets that we have seen in quite a while.
Now the thing to remember about the Paddy Power betting site is that they are never afraid of putting into place plenty of unique types of wagering opportunities, many of which can see you getting your stakes fully refunded when an event, which they have named before a horse race gets under way actually occurs during the running of that race.
Their current brilliant promotions which is going to appeal to any punter who has had the heart stopping moment when they horse take a tumble at the last fence will see anyone who has had a bet on any jump race during November getting their full stakes returned should their horse fall at the last!
If you are planning a bet on any jump race then not only is this money back special promotion going to alleviate the annoyance of watching your horse fall at the last, but when you place any wager at Paddy Power you are often getting the best odds in the betting industry and as such they are certainly one betting site you should be placing your wager at.
Also if you get in early and checkout their early price odds each morning you will also be able to take advantage of their generous prices, and often many of their early priced runners will come with a best odds type of guarantee.
So if you have placed a wager on any early priced horse and have taken those odds offered by the Paddy Power betting site if the odds move out and increase then Paddy Power will give you those better odds, however should the odds become smaller then by taking those early prices you are going to get paid at those higher odds, so it is certainly a win/win proposition!
Please take a few moments to get on over and to visit the Paddy Power betting site for they have also got a few more November special bets listed on their main page and these offers are going to appeal to you and they are not just horse racing types of wager either, so whatever you like to bet on the Paddy Power site is certainly worth checking out.